September 28, 2022
Congratulations to our new WSG Hershman Fellows!
We are pleased to announce that recent graduates Grace Adams, Abigail Ames, Monea Kerr, Kathryn Loy, Jenna Rolf, Harshitha Sai Viswanathan and Olivia Zimmerman have been awarded the Washington Sea Grant Hershman Fellowship for 2022–2023. This fellowship places highly motivated, qualified individuals with marine and coastal host offices throughout Washington, providing fellows with a unique perspective on building marine policy and allowing them to share their academic expertise with the host offices.
This year's host offices are Coast Salmon Partnership, Makah Tribe Office of Marine Affairs, Northwest Seaport Alliance, Puget Sound Partnership, The Nature Conservancy and Washington Department of Ecology.
This year's fellows are: 
Grace Adams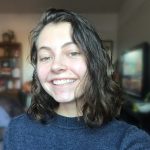 Grace grew up in Prairie Village, Kansas — a suburb of Kansas City — and received her bachelor's degree in environmental science at Loyola University of Chicago. Here, Grace found a passion for environmental policy and aquatic ecosystem stewardship. Following her graduation, she pursued a master's degree in public administration with a focus in environmental policy at the UW Evans School of Public Policy and Governance. While at the Evans School, Grace worked with the Island County and Snohomish County Marine Resources Committees to review the Port Susan Marine Stewardship Area's 2012 Conservation Action Plan, provide updated knowledge, and develop recommendations regarding future conservation and stewardship frameworks and improved community engagement. Simultaneously, Grace worked at NOAA Fisheries West Coast Region to improve information accessibility and sharing regarding aquaculture regulations, piloted the West Coast Region's first Aquaculture Newsletter, and developed a strategic aquaculture communications plan. As a WSG Hershman Fellow, Grace is excited to work for the Coast Salmon Partnership, specifically aiding in the development of a Climate Adaptation Framework for salmon habitat protection and restoration in the Washington Coast Region.
Abigail Ames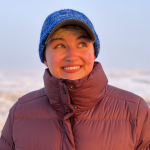 Abigail moved to the Pacific Northwest in 2015 from the Mojave Desert in California. Since then, she has deeply embedded herself in communities and environments across the region and pursued her master's degree to better support equity and environmental justice on the Pacific Coast and inland waters. After completing a double major in aquatic and fishery sciences and in oceanography from the UW, Abigail was awarded a policy research fellowship from Northwest Straits Foundation in partnership with the San Juan County Marine Resources Committee. In this role, she worked closely with members of the committee as well as natural resource scientists County to consolidate climate change information and produce an update to a key piece of stewardship policy in the region. While earning her degree with UW School of Marine and Environmental Studies, she worked closely with Inupiaq community leaders to develop a land-based curriculum to promote safety and small-scale adaptation of traditional hunting practices in a rapidly changing landscape fueled by climate change. Abigail is committed to continuing to support local climate change adaptation efforts and is excited to put this into action as a WSG Hershman Fellow.
Monea Kerr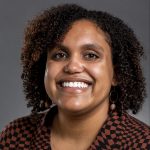 Originally from Sequim, Washington — where her tribe, the Jamestown S'Klallam Tribe, resides — Monea spent her childhood on Jamestown Beach. Her fascination that ultimately bloomed into passion for the ocean started at a young age, after spending time on the sandbar that would emerge daily outside her ancestral lands that her family still lives on. Watching this beach change over the years in combination with recognizing the importance of her tribe's cultural and subsistence practices sparked her interest in marine policy and coastal management. Monea earned her bachelor's degrees from Western Washington University in public relations and communication studies. Monea then worked at the City of Bellingham as a legislative assistant to the Bellingham City Council, where she found her passion for public policy and governance. This experience led her to pursue a master's degree from the UW Evans School of Public Policy and Governance, where she specialized in environmental policy. Monea is specifically interested in the nexus between Indigenous rights, ocean conservation, and environmental justice. Monea couldn't be more excited to work with The Nature Conservancy as a WSG Hershman Fellow, conducting a thorough restorative seaweed aquaculture scoping endeavor for the Pacific Northwest.
Kathryn Loy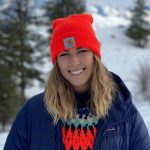 Born and raised in Seattle, Kate's love for the outdoors began at a young age through exploring tide pools, hiking, and camping around the Pacific Northwest. While earning her bachelor's degree from Colorado College in organismal biology and ecology, Kate spent her summers interning for a seabird monitoring citizen science program at UW. Her experience connecting the public to science furthered an interest in environmental outreach, prompting her to obtain a degree in storytelling and content strategy. Kate went on to receive her master's from the UW School of Marine and Environmental Affairs, where she completed a congruent degree in American Indian and Indigenous Studies. Her capstone project centered on climate adaptation and Indigenous sovereignty in Arctic Alaska. As the project's engagement lead, she managed communications for a sea ice monitoring network and collaborated on initiatives assisting with capacity building and climate resilience. As a WSG Hershman Fellow, Kate is thrilled to continue working on science communications and environmental monitoring with Puget Sound Partnership to support science-informed policy, ecosystem recovery and environmental justice.
Jenna Rolf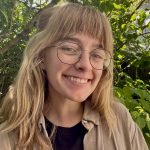 Jenna grew up in southern California before moving to Seattle to study biology at Seattle University in 2015. She quickly grew to love the Puget Sound and the diversity of life contained within it. As an undergraduate, Jenna studied intertidal invertebrate community structures and marine algae genetics. After graduating, she accepted an internship with the Seattle Aquarium where she spearheaded a project that assessed death and recovery rates of corals in Hawai'i following the 2014 marine heatwave. Driven by a desire to increase our collective understanding of coastal resiliency, Jenna went on to earn a master's degree from the UW School of Marine and Environmental Affairs. While there, her thesis work focused on shifts in subtidal community structures on the coast of Neah Bay, Washington, following the 2013 sea star wasting epidemic. During this time, she also worked with WSG on the Securing Adaptable and Resilient Coastal Food Systems project, in which she supported the development of the Makah Tribe First Foods Sovereignty Project. Jenna is excited to continue working with the Makah Tribe as a WSG Hershman Fellow, where she will be supporting the derelict vessel removal program, oil pollution prevention, climate resiliency and environmental policy.
Harshitha Sai Viswanathan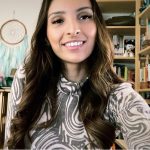 Harshitha holds a master's degree from the UW School of Marine and Environmental Affairs and a bachelor's degree in biochemistry and cell biology with a minor in marine sciences from the University of California San Diego. Growing up in the United Arab Emirates, her passion for marine conservation stemmed from her diving experiences and participation with the Abu Dhabi Environmental Agency as a research assistant. Her master's thesis explored the characteristics of tourism that contribute to sustainability in the coastal environment of Abu Dhabi. She assisted the Convention on Biological Diversity in developing strategies to include small-scale fishing communities and Indigenous people in the restoration, protection and equitable co-management of coastal environments and communities in India. Harshitha is currently working on two independent projects. Through the first, she is exploring the impacts of urbanization on cultural and coastal sustainability in Abu Dhabi and Dubai. The second project explores the public health impacts of climate change. Harshitha hopes to create equitable marine and coastal policies by bringing in diverse and feminist perspectives. She is excited to apply her experience to a WSG Hershman Fellowship studying climate change impacts and developing response frameworks in seaport facilities and communities.
Olivia Zimmerman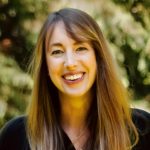 Olivia grew up in Washington, perpetually enchanted by the region's forests, seas and mountains. She earned a bachelor's degree in psychology from Western Washington University, where she studied human risk perception and emotional responses to apex predators in a conservation psychology lab. Following graduation, she traveled to the Daintree Rainforest in Queensland, Australia to research local and tourist responses to proposed infrastructure developments. When she returned to Seattle, she began working as a small ship travel consultant. In this role, she helped people plan trips to remote destinations such as Antarctica, Svalbard and the Galapagos. This work deepened her passion for marine ecosystems and socio-ecological relationships. Olivia recently completed her master's degree at the UW School of Marine and Environmental Affairs, where she conducted a qualitative research project to assess the needs of and inequities to Indigenous communities in a regional floodplain management program. Her work focuses on collaborative, co-created and equitable environmental solutions, always with an emphasis on human well-being. As a WSG Hershman fellow, Olivia is thrilled to join the Department of Ecology's local and community-based coastal and shoreline resilience planning efforts.
Congratulations, fellows! We can't wait to see what you accomplish.
###
Washington Sea Grant, based at the University of Washington, helps people and marine life thrive through research, technical expertise and education supporting the responsible use and conservation of coastal ecosystems. The National Sea Grant College Program is part of the National Oceanic and Atmospheric Administration, U.S. Department of Commerce.
www.wsg.uw.edu.
Join the conversation: @WASeaGrant and Facebook.com/WaSeaGrant.