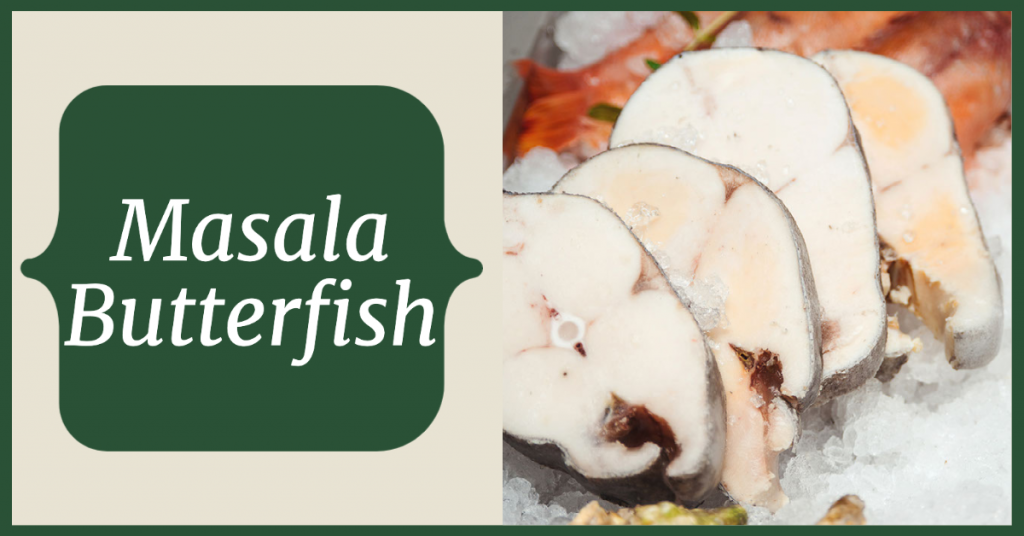 August 9, 2022
By Olivia Horwedel, WSG Science Communications Fellow
This week, we are cooking a masala butterfish recipe from Seattle-based chef, Kausar Ahmed.  Ahmed is the author of the award-winning cookbook, The Karachi Kitchen. This recipe not only showcases brilliant flavors from Pakistan that pair perfectly with butterfish, but this meal also works well with any fleshy white meat fish, such as the locally-caught sablefish or black cod, an underutilized and sustainable fish species of the Northwest. 
Butterfish are known for their luscious and buttery texture. Butterfish species have nearly ⅓ more fat than Chinook salmon. This is also true of sablefish (aka black cod) which is of the family Anoplopomatidae, from the icy, deep waters of the Pacific Northwest. Sablefish in particular are an incredibly sustainable species to consume! Not only are they managed very sustainably within the United States and Canada, but the populations of this species are quite abundant. Due to this species spending most of their time in deep waters, the main method used to catch sablefish is longlining. This fishing method reduces bycatch, reducing its impact on the surrounding organisms in that ecosystem. 
The recipe traditionally calls for cooking the whole fish, but if you have access only to a filet, that will also work fine. So, if you are looking for a new weeknight recipe, make sure to try this delicious and sustainable recipe featuring a Pacific Northwest favorite!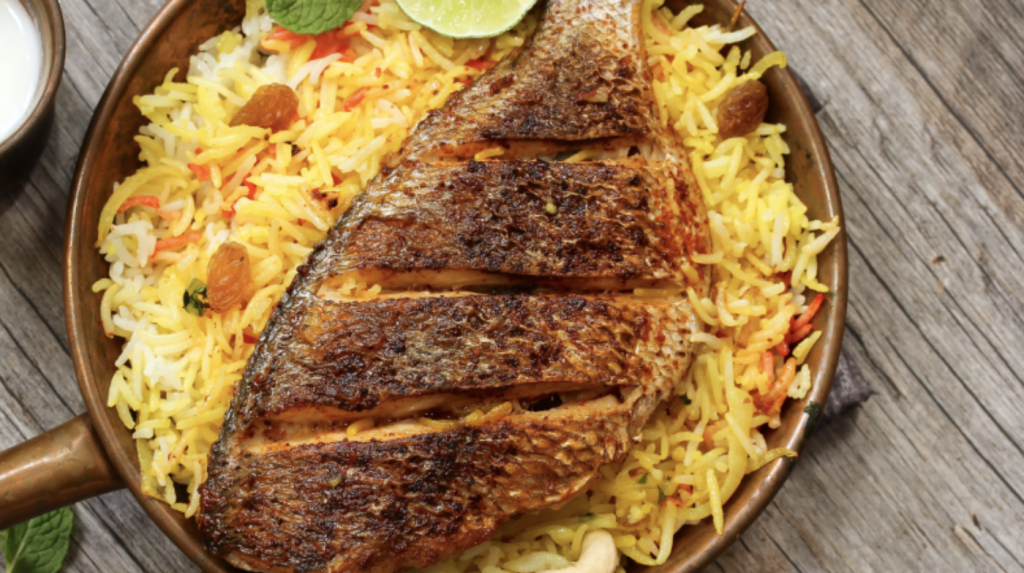 Masala Butterfish Photo Courtesy of Chef Kausar Ahmed
Ingredients:
2 tablespoons kosher salt

5 whole pieces of pomfret (butterfish)
4 tablespoons ginger paste
4 tablespoons garlic paste
½ teaspoon red chili powder
¼ teaspoon ground turmeric
1 teaspoon cumin seeds, toasted and coarsely ground
1 teaspoon ground coriander
1 teaspoon chaat masala
4 tablespoons lemon juice
½ cup chopped cilantro (plus more for garnish)
¼ cup mustard oil ( substitute with vegetable or canola)
Method:
Using a sharp knife, make 2-3 diagonal slashes to the fish, scoring at about 1.5 inches apart

Rub salt on the fish, and rinse off (takes away fishy smell). Pat dry and keep aside
In a small bowl, mix ginger, garlic, chili, turmeric, cumin, coriander, chaat masala, lemon juice, and ½ cup cilantro
Heat oil in a pan on medium heat. Add 1-2 pieces of fish at a time, frying each side for 3-4 minutes or until it turns golden brown and slightly crispy. Transfer to a serving platter, garnish with remaining cilantro and serve hot with rice or naan.