May 10, 2015
Marine Water Quality Specialist Teri King recently won the 2014–2015 UW College of the Environment's Outstanding Community Impact Award for many years of dedicated outreach work on Puget Sound water quality and shellfish aquaculture.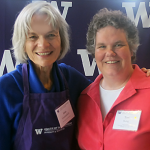 Since 1990, Teri has been indispensable to WSG's outreach programs, as well as to the region's residents and businesses. She has developed an innovative program of outreach and technical assistance to address complex and interrelated issues of sustainable shellfish aquaculture and water quality in Puget Sound.
Her program has fostered longstanding partnerships with tribes, shellfish producers, researchers, managers, educators, students, and volunteers. Under her leadership, these partners work together to develop sustainable aquaculture, enhance shellfish resources, monitor marine waters, reduce pollution, and protect coastal environmental health.
Teri has dedicated her career to making scientific knowledge available for use in the marine environment and to providing coastal residents and businesses with the tools they need to help protect that environment and sustainably use its resources.