October 3, 2023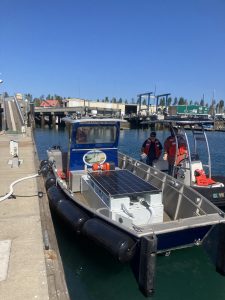 Port Townsend is getting a clean water boost with a new solar-powered pumpout unit that will help provide more options for boaters to properly dispose of their sewage.
The unit was commissioned by the Port of Port Townsend and built by the nearby Northwest School of Wooden BoatBuilding. The equipment is a self-contained module that includes a 250-gallon waste tank, high-capacity pump, hoses, batteries and solar and AC charging equipment that can be put on the deck of any workboat to turn it into a mobile pumpout.
The solar-powered unit was in part inspired by Clean Bay, a zero-emissions pumpout boat built by the Boat School that is now operating at the Port Ludlow Marina. That project was, in large part, motivated by the potential to train the next generation of boat builders. "I want my students to learn all of the latest technologies," says Boat School lead systems instructor Kevin Ritz.
Similarly, building the new pumpout unit provided cutting-edge educational fodder for Boat School students. "It was very satisfying to be part of building an innovative system that diversifies the functionality of a workboat, giving it a new well-defined purpose," says Jeff Matthews, a recent Boat School graduate.
That diversified functionality is a key part of what makes the new unit so inventive. "It's a huge feature that the boat and pumpout unit are two separate entities," says Kristian Ferrero, harbormaster for the Port of Port Townsend. "It helps with maintenance and maintains flexibility for the workboat to be repurposed for other uses such as oil spill response." The unit will be used on the Port's Munson Utility Workboat; it was put on the workboat for the first time in late August for a trial run. "After making a few adjustments, we expect to put the unit back on the boat and be able to start offering an awesome service for boaters here," says Ferrero.
 "When the Port needed to retrofit an existing boat to function as a pumpout boat without losing the ability to use that same boat for seasonal work relocating floats and buoys, the Port turned to the Boat School and their systems program," says Eron Berg, executive director of the Port of Port Townsend. "Kevin and his students crafted a solution to our problem by creating a custom, solar-electric pumpout skid unit that can be easily removed from the boat when it's not in use as a pumpout boat. We are now home to the first in the nation, Clean Water Act funded, solar-electric pumpout skid unit, imagined, designed and built right here at the Northwest School of Wooden Boat Building!"
Pumping out boater sewage, rather than dumping it overboard, is not only the right thing to do for the sake of coastal ecosystems and communities — in Puget Sound, it's the law. As recreational boating continues to gain popularity in Washington, however, there is a growing need for more pumpouts to meet the demand. The new Port Townsend unit will help fill this need, especially since boaters are particularly interested in more mobile pumpout services that come to them. "The easier you make something, the more likely people are to use it," says Kimberlie Webber, environmental specialist with the Port of Port Townsend. "We have a lot of larger vessels in our marina that need more options for emptying their tanks."
The project was funded through a grant from the Washington State Clean Vessel Act (CVA) program. "Washington State Park's CVA program is working closely with ports and marinas to increase pumpout options throughout the Salish Sea," says Catherine Buchalski Smith, manager of the Washington CVA program.
In addition to funding infrastructure, the CVA program educates boaters on the importance of safe and legal sewage disposal through Pumpout Washington, an educational outreach program run by Washington Sea Grant (WSG) with funding from the Washington State Parks CVA Program.
Aaron Barnett, WSG boating program specialist, launched Pumpout Washington in 2012 and has since worked with individuals and organizations across the state to make it easier for boaters to maintain good water quality. For example, Barnett has been a supporter of the Clean Bay project for years. "It is inspiring to see the Port and Boat School take the concept of a solar-powered pumpout boat and apply it in a new direction," Barnett says.

###
The CVA program is part of the Clean Vessel Act of 1992 supported by the U.S. Fish and Wildlife Service's Sportfish Restoration Fund from special taxes on recreational boats, fishing gear and boat fuel. In Washington the program is managed by Washington State Parks. Washington Sea Grant uses Clean Vessel Act grant funds to provide pumpout adapter kits to individual boaters, marinas, yacht clubs or other organizations that serve recreational boaters.
Washington Sea Grant, based at the University of Washington, helps people and marine life thrive through research, technical expertise and education supporting the responsible use and conservation of coastal ecosystems. The National Sea Grant College Program is part of the National Oceanic and Atmospheric Administration, U.S. Department of Commerce.
www.wsg.uw.edu.
Join the conversation: @WASeaGrant and Facebook.com/WaSeaGrant.