August 23, 2022
We are pleased to announce that Kristin Privitera-Johnson (she/her), a doctoral student at the University of Washington School of Aquatic and Fishery Sciences (UW SAFS), is one of eight fellows selected for the 2022 National Marine Fisheries Service-Sea Grant Joint Fellowship Program.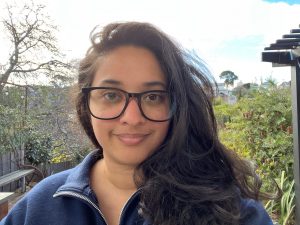 Kristin is originally from California, where she earned a bachelor's degree in marine biology from California State University, Long Beach. Kristin worked as a high school science teacher in the Bay Area for two years after graduation. During this time, she was awarded the National Science Foundation Graduate Research Fellowship. She used this opportunity to complete a master's degree in aquatic and fishery sciences with André Punt. This work explored methods for quantifying scientific uncertainty in the production of scientific advice for fisheries management. In fact, one of her thesis chapters was adopted by the Pacific Fishery Management Council Scientific and Statistical Committee as a method for setting catch limits for US West Coast groundfish and coastal pelagic species. Kristin teaches the R programming courses for SAFS and conducts research in the Punt Lab as a doctoral student. Her dissertation focuses on using management strategy evaluation to model the performance of strategies that aim to promote catch stability, while promoting sustainable fishing practices. She is also interested in the system-specific rationale and methods used to quantify scientific uncertainty in the management strategy evaluation process. Her she will be advised by UW faculty member André Punt and mentored by Richard D. Methot of NOAA Fisheries.
Since 1999, the NMFS-Sea Grant Joint Fellowship program has trained the next generation of specialized experts in fisheries management. The program addresses the critical need for future fisheries scientists with expertise in stock assessment by supporting students pursuing doctoral degrees in related fields. Fellows are chosen through a competitive process that involves national review by an expert panel.
During their fellowship, fellows are guided by at least two mentors, one from the fellow's university and one from NOAA Fisheries, and they are required to participate in a yearly research symposium. This year's NMFS-Sea Grant Fellowship Research Symposium is taking place concurrently with the annual American Fisheries Society meeting (August 21-25) in Spokane, Washington.
Since the fellowship began, it has supported over 100 population and ecosystem dynamics and 38 marine resource economics doctoral fellows. Alumni of this fellowship typically hold future positions in NOAA Fisheries, other agencies, academics and fishery management councils.
Congratulations, Kristin!
Learn more about the NMFS-Sea Grant Fellowship program, as well as this year's fellows here.
###
Washington Sea Grant, based at the University of Washington, helps people and marine life thrive through research, technical expertise and education supporting the responsible use and conservation of coastal ecosystems. The National Sea Grant College Program is part of the National Oceanic and Atmospheric Administration, U.S. Department of Commerce.
www.wsg.uw.edu.
Join the conversation: @WASeaGrant and Facebook.com/WaSeaGrant.