July 21, 2021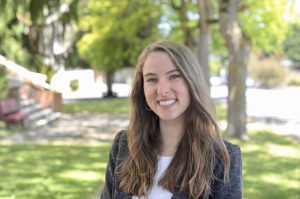 We are pleased to announce that recent University of Washington (UW) graduate Alanna Greene was selected as a finalist for the 2022 class of the prestigious John A. Knauss Marine Policy Fellowship program.
Since 1979, the National Sea Grant College Program has provided one-year fellowships working in federal government offices in Washington, D.C. to over 1,400 early-career professionals. Legislative fellows typically spend their time learning about marine-related policy issues in Congress and often get the chance to further key pieces of legislation. Executive fellows work for such agencies as NOAA, Environmental Protection Agency, National Science Foundation, State Department, Fish and Wildlife Service, and Department of Energy, often assisting in the implementation of management and conservation laws.
Alanna is a recent master's graduate of the UW School of Marine and Environmental Affairs who is interested in the intersection between marine science, policy, and communication. As an undergraduate at the UW School of Aquatic and Fishery Sciences, she researched the impacts of low pH on stress related gene expression in the Olympia oyster to discern the effects of ocean acidification on marine invertebrates and researched how urban development has led to changing parasite assemblages along the West Coast. Through her master's capstone project, Alanna provided policy recommendations to improve habitat connectivity in Washington and British Columbia. She also advanced science communication efforts throughout UW and the broader community, as she co-founded FieldNotes, an undergraduate research journal, and Earth Tones, a podcast about humans and the environment.
Congratulations, Alanna! We can't wait to see what you accomplish.
Learn more about the other Knauss Finalists from around the country here.