October 4, 2022
Washington Sea Grant is excited to announce that Ashley Townes has been selected as the 2022–2023 WSG Keystone Fellow. Through the fellowship, she will spend the year working at the Port of Seattle. Launched in 2019, the WSG Keystone Fellowship seeks to build pathways into marine science, policy and related industry careers for individuals who are historically underrepresented in those fields. This paid fellowship offers a unique educational opportunity by matching highly motivated and qualified individuals with host offices throughout Washington State. The Fellowship offers first-hand experience working on projects that help WSG better understand, conserve and utilize Washington's ocean and coastal resources and is open to diverse graduates and early-career professionals who are interested and engaged in ocean and coastal vocations.
About Ashley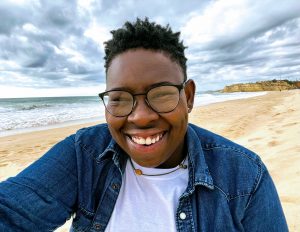 Ashley Townes is a passion-driven fish ecologist, educator, researcher and environmental justice advocate. She is completing her doctorate in fisheries ecology at the University of Washington School of Aquatic and Fishery Sciences (SAFS). Her research focuses on sockeye salmon breeding behavior in Bristol Bay, Alaska and the habitat associations of juvenile chinook in Lake Washington. Ashley is also a trainer in program design and cross-cultural communication and obtained her master's degree in both sustainable development and international education from the School for International Training Graduate Institute.
Hailing from Philadelphia, Pennsylvania, Ashley has traveled to more than 50 countries on 6 continents, studying, researching and providing professional development to various international organizations and institutions. She continues to design and implement high impact community-based environmental projects and best cross-cultural practices in natural resource management, especially as related to Black and Indigenous populations, people of color and ethnic minority groups. Before starting at SAFS, Ashley worked as a linguistic data analyst at the Linguistic Data Consortium, as a recycle specialist at Cascadia Consulting Group in Seattle, and as an environmental technician at King County-Water and Lands Resources Division.
As the 2022–2023 WSG Keystone Fellow, Ashley is thrilled to work with the Port of Seattle's maritime habitat team on advancing the development and implementation of innovative habitat restoration projects including kelp research, floating wetland islands and blue carbon monitoring. Additionally, she will investigate ways to strengthen the linkage between habitat restoration, stewardship, community engagement and equity.
Congratulations, Ashley! We can't wait to see what you accomplish.
###
Washington Sea Grant, based at the University of Washington, helps people and marine life thrive through research, technical expertise and education supporting the responsible use and conservation of coastal ecosystems. The National Sea Grant College Program is part of the National Oceanic and Atmospheric Administration, U.S. Department of Commerce.
www.wsg.uw.edu.
Join the conversation: @WASeaGrant and Facebook.com/WaSeaGrant.