September 11, 2019
In late August, we had the pleasure of sharing our exciting programs with Washington State Congressional staffers on beautiful San Juan Island during the annual University of Washington (UW) Legislative Field Tour. We were invited to participate by the UW College of the Environment and UW Office of Federal Relations. It was a fantastic opportunity to showcase our work.
Our day began on the docks of Friday Harbor Marina, where WSG staff demonstrated boater sewage pumpout tactics and small oil spills prevention tools. From there, we got an enthusiastic lesson on how to catch European Green Crab by Jeff Adams, a marine ecologist and project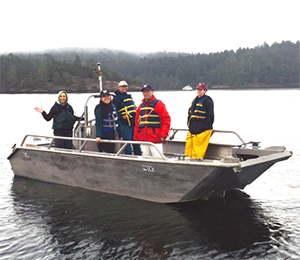 lead for the WSG Crab Team. After dinner, I took our guests for a cold swim! WSG boating specialist Aaron Barnett and I helped the guests into safety suits and then took them for a quick dip off the docks at Friday Harbor Labs as part of a Safety-at-Sea demonstration.
Staff from the offices of Rep. Kim Schrier, Rep. Rick Larsen, Rep. Cathy McMorris Rodgers, and two staff from Senator Maria Cantwell's office attended. Thank you to all WSG staff who came to the islands to engage and educate our tour guests—and a special thank you to Stephanie Harrington, Associate Dean of Administration at the College of the Environment, and Sang Han, Associate Director of the UW Office of Federal Relations, for including us in their 2019 tour. A lot of super information was shared and everyone had a great time.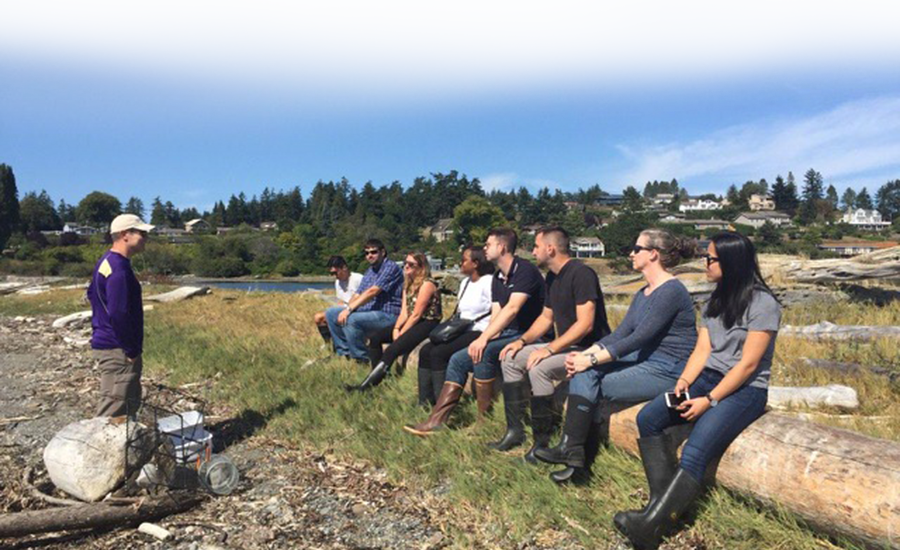 Russell Callender, WSG Director