December 10, 2020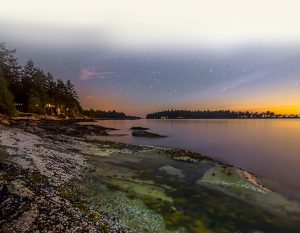 WSG awarded grants for Green Shores for Homes, Sea Level Rise Exposure, Shoreline Monitoring Toolbox, and Green Crab Projects for a total of $1.15 million. 
The National Estuary Program (NEP) is a place-based initiative to protect and restore the water quality and ecological integrity of estuaries of national significance. Earlier this year, the Puget Sound NEP Habitat Strategic Initiative announced funding for the four following Washington Sea Grant programs:
Integration of Green Shores for Homes into Shore Friendly: $335,000 
Green Shores for Homes (GSH) was developed as a LEED-style rating system to incentivize better shoreline property management in Washington State and British Columbia. The program fits under the Shore Friendly program umbrella, but while Shore Friendly focuses on removing armor, GHS will feature a broader approach to green shoreline development with a focus on the removal of shoreline armor and sea level rise. With these funds, GHS will pilot a working group of local governments and act as a liaison between this group and the Shore Friendly program.
Sea Level Rise Exposure: $200,000
The Washington Coastal Resilience Project team has developed localized sea level rise projections for Washington State. The new project will integrate those projections with spatial data to assess sea level rise exposure for the shores of Puget Sound. Those data will then be added to a map of habitat characteristics and infrastructure to assess local vulnerabilities to sea level rise and related hazards such as erosion and coastal flooding. Questions include: What habitats in Puget Sound are most vulnerable to impacts of sea level rise? What forms of infrastructure are most vulnerable? Where are ecosystem services most at risk from sea level rise? Are there areas that should be prioritized for protection or restoration when sea level rise is considered?
Shoreline Monitoring Toolbox: $250,000
The Shoreline Monitoring Toolbox was launched in 2014 and provides standardized approaches to monitoring shorelines in Puget Sound. It includes more than 15 protocols including both physical and biological monitoring. The current funding will provide for the addition of more protocols to the database, enhanced database functionality and visualization, historical data compilation, and data analysis. One goal of this newly funded phase of the project is to further implementation of the toolbox protocols and broaden results, especially in quantifying the benefits of shoreline armor removal. Ultimately, the project hopes to generate information that can be used in guidance to encourage more armoring removals and provide an adaptive management framework to identify what is and is not working for the benefit of future restoration projects.
WSG Crab Team: $360,000
WSGCrab Team was launched in 2015, in response to a Washington Department of Fish & Wildlife (WDFW) mandate to monitor for invasive European green crabs along inland Washington shorelines. The NTA funding will help support Crab Team in their emergency response to the European green crab detection and citizen science. This grant includes 18 months of funding for training, monitoring effects, and coordination of stakeholders, agency, and partner efforts.