October 15, 2020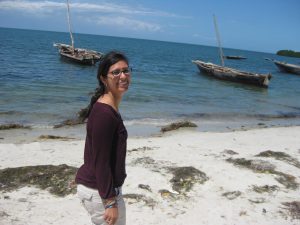 Washington Sea Grant (WSG) is excited to welcome Nicole Naar as a new aquaculture specialist.
Born and raised in the Tampa Bay area, Nicole developed a love for marine science while spending summers at the beach. Although her interests shifted to social science while she attended college at Emory University, as an applied anthropologist she studies how coastal communities respond to social-ecological challenges. Before joining Washington Sea Grant (WSG), she was a postdoctoral research associate working with the NOAA West Coast Regional Office in Seattle, where her role was to support Washington State's emerging seaweed aquaculture industry. Her previous research as an National Science Foundation-funded NOAA intern on the cultural importance of kelp to Pacific Northwest Tribes was included in the recently released Kelp Conservation and Recovery Plan.
Nicole earned her doctoral degree in anthropology from the University of California-Davis, where she conducted field work in Mexico and Tanzania. Her dissertation research examined how immigration and community diversity in Baja California Sur affect cooperation in the context of fisheries management. Before graduate school, Nicole was a high school science teacher in Donna, Texas. Still a teacher at heart, Nicole loves being able to combine her interest in social-ecological research, passion for education and outreach, and commitment to social justice as part of the WSG team.
We are so excited to have you aboard, Nicole!