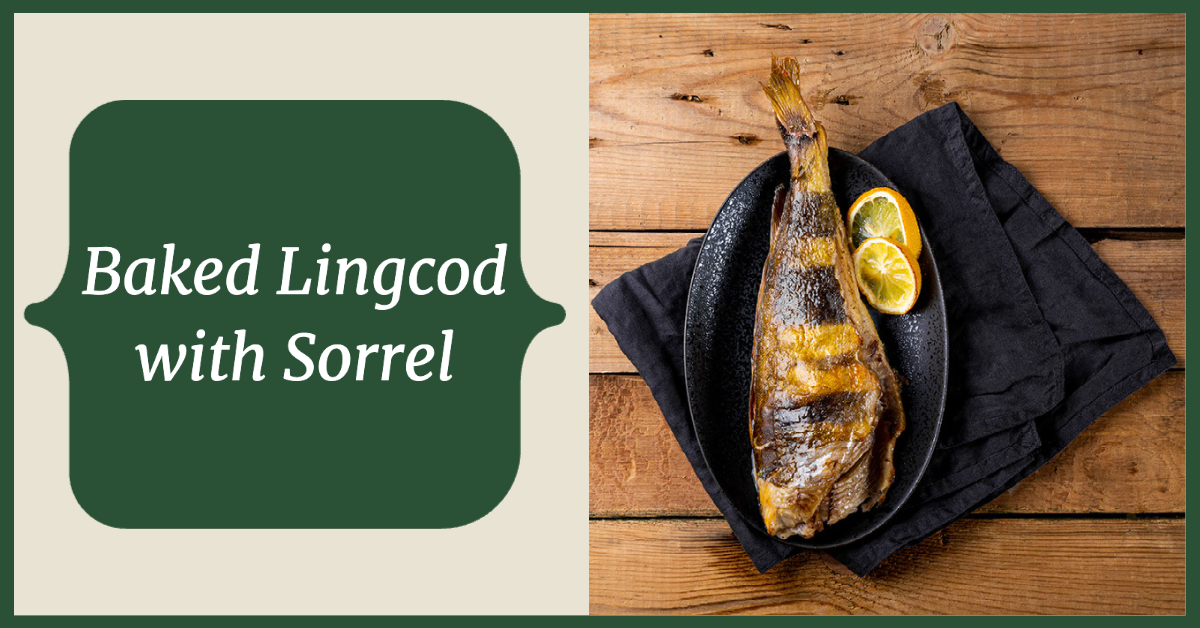 May 16, 2023
By Emma Duckworth, WSG Undergraduate Science Communications Fellow
This summer, Washington Sea Grant is developing a West Coast Seafood Recipe Series, encouraging you to cook up some delicious, locally-harvested seafood! These recipes are easy ways to shop sustainably and support local fisheries, all while trying out some new dishes. 
Kicking off this series is a recipe for baked lingcod with sorrel, courtesy of Oregon Sea Grant. May marks the beginning of lingcod season here in the Pacific Northwest, which lasts until October. Although they aren't fished commercially, recreational lingcod fishing is available in many areas around the Puget Sound. Check out the regulations on lingcod fishing in the Pacific Northwest here
INGREDIENTS
Serves 3-4
5 cups Sorrel, triple washed and roughly chopped

1 tbsp olive oil

3/4 – 1 lb lingcod fillet

Kosher salt to taste

1/2 tsp lemon pepper

1/2 tsp cracked black pepper

Flaky salt to taste
Garnish
1 tsp chopped fresh parsley

1 tsp diced pickled red peppers

Olive oil for drizzling
INSTRUCTIONS
Pre-heat oven to 375° F.

Spread the rinsed and chopped sorrel out on a rimmed baking sheet or oven proof glass baking dish, drizzle with ~1T olive oil, and sprinkle with kosher salt.

Carefully remove any pin bones from the lingcod fillet, and pat dry with paper towels. Season with kosher salt, lemon pepper, and cracked black pepper and lay on top of the fresh sorrel.

Bake at 375° F for 15-20 minutes, depending on the thickness of your fillet. The fish is done when it looks opaque and just barely flakes. 

Remove from oven and garnish with fresh chopped parsley, diced pickled red peppers, and a drizzle of extra virgin olive oil. Lastly, top with a light sprinkle of flaky salt.
Home-cook tip: Sorrel is a soft, leafy green with a tart, citrus-y flavor. It can be challenging to find, but ask around at your local farmers market for it. We sourced the sorrel for this recipe from Gales Meadow Farm. If you can't find sorrel, you can substitute another leafy green like spinach and then finish with a squeeze of lemon just before serving.
Recipe courtesy of Oregon Sea Grant