November 7, 2016
Extreme high tides, known as King Tides, are a dramatic feature of Washington winters, that occur when the moon comes closest to earth. King Tides don't result from climate change, but these high-water events provide a spectacular shoreside show and a sneak preview of what rising sea levels will mean in years to come, as people become impacted by the phenomenon of climate change.
This project promotes awareness of sea level rise impacts and helps residents visualize what it will mean in vulnerable coastal areas.
Community events and the Witness King Tides website inform coastal dwellers about twice-yearly extreme tides. The project encourages people to photograph their favorite Puget Sound park, beach or wetland when the tide peaks and upload their photos to the King Tides website. The website helps local communities and decision makers visualize the challenges we will face as the climate changes.
At periodic King Tide parties, Coastal experts explain the science of these jumbo tides. Watch our calendar and bring your camera to  post your King Tide photos on the King Tide Project's online gallery.
Volunteer
Your photos can help coastal communities prepare for and adapt to sea level rise.
If you are interested in becoming a volunteer or receiving additional information, please contact Bridget Trosin at bemmett@uw.edu.
Partner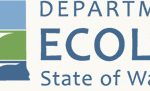 The Washington State Department of Ecology (Ecology) is a partner with Washington Sea Grant on the Witness King Tides project. As a partner, it supports the King Tides initiative and has provided an atlas to find public beaches.