April 13, 2021
By Hannah Jeffries, WSG Science Communications Fellow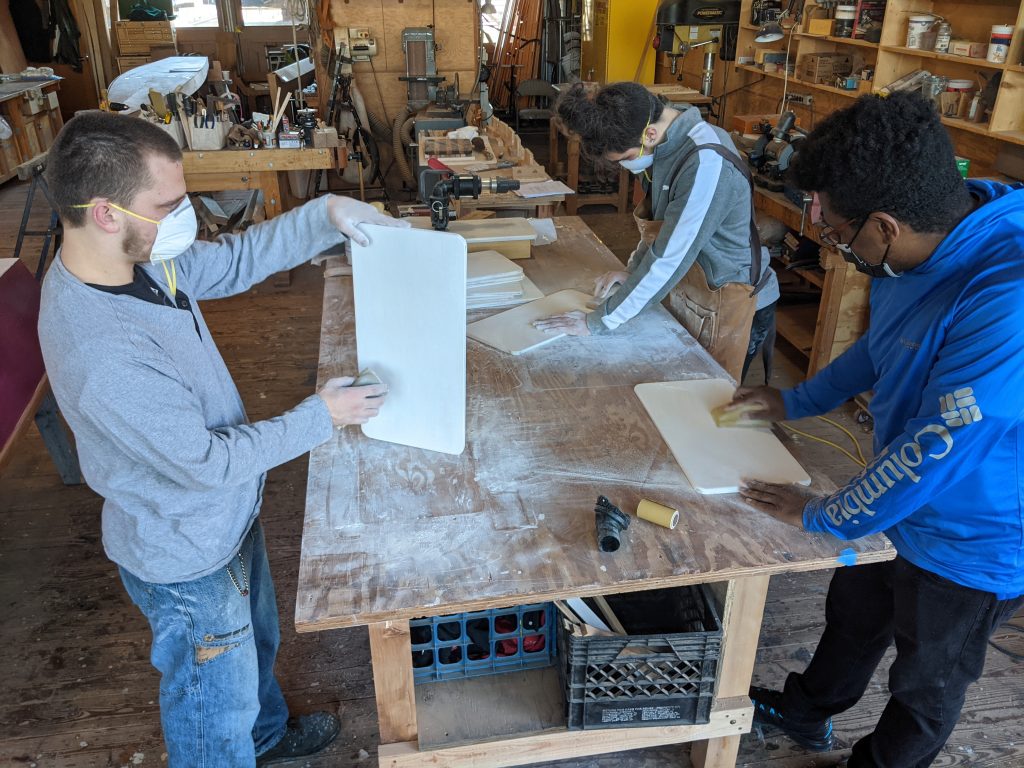 At the beginning of last winter, a group of teenagers in Port Townsend began to learn the basics of woodworking through an unusual means: building boxes to demonstrate how to pumpout sewage from boats. Aaron Barnett, the boating program specialist at Washington Sea Grant (WSG), uses these demo boxes as part of the Pumpout Washington campaign, which encourages boaters to use adapters at pumpout facilities that can prevent spills into the water. 
This partnership began when Barnett approached the Northwest Maritime Center to inquire about displays for the pumpout adapters, which are given to boaters throughout Washington. At this point, Pumpout Washington has handed out about 13,000 adapters, with more to be distributed this summer. Barnett wanted a display for demonstrating the proper use of these adapters as he hands them out at marinas and yacht clubs. After brainstorming ideas with the Northwest Maritime Center's Shop Manager, Joel Arrington, they finalized a design. The task of building a few of these demo boxes was then integrated as part of the Youth Education Program at the Maritime Center in order to teach youth basic tool skills.
Six youth from Jefferson County, ages 14 to18, participated in this project every Wednesday and Thursday from November to February. They worked closely with Arrington and the facilitator of the program, Sonia Frojen, for six hours each week. The students started by picking the materials that were provided by WSG, milled them down, then began with a layout plan and measurements. Arrington explained that he started by teaching the students foundational skills, like how to mill and use a table saw. "Once the wood was cut, they learned how to refine the pieces to their correct size, and then began learning basic woodworking joinery of fastenings and gluing," he said. The students also learned about the standard marine finishing of oil and varnish and how to properly implement top side finishes for marine environments to ensure a long-lasting product.
"By going through the process of building these demo boxes, the youth learned basic tool skills and were introduced to a trade," Barnett explained. Given the vibrant maritime economy in Port Townsend, these lessons could help set the students up for a successful future and have a positive impact in Jefferson County. "This is a real-world readiness program, and the students learned the basics of woodworking for marine environments," Arrington said.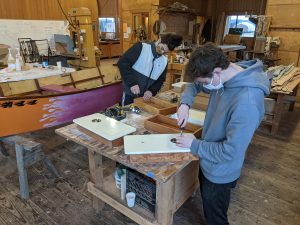 One of these boxes is currently on display at the University of Washington Seattle campus and another at Port Kingston. Now that these boxes are complete, WSG will begin using them for events and demonstrations for boaters to learn how the pumpout adapters work in order to help keep the oceans clean. The rest of the boxes will begin going out to other people within the boating community later this spring. Looking to continue this project, "we will be doing this project again if more boxes are needed," Barnett said. Each box has the potential to teach more students basic woodworking skills, and to educate the public and encourage people to keep our waters clean.