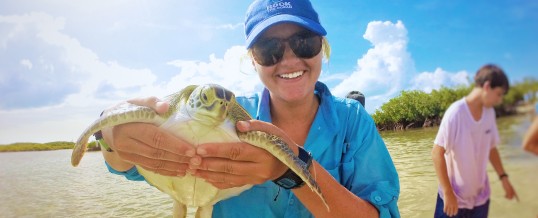 Header photo: assisting with the Cape Eleuthera Institute's green sea turtle research.
  January 17, 2018
Hello, Crab Team community! My name is Kelly Martin and I am thrilled to be joining the Washington Sea Grant Crab Team this year as a program assistant! I am currently a first-year graduate student at the University of Washington School of Marine and Environmental Affairs interested in bridging the gaps between scientists, policy makers, and the general public. Though I am originally from the San Francisco Bay Area, this is my first time living back on the West Coast in six years. After graduating from high school, I headed southeast to the University of Miami in Florida, where I studied marine affairs at the Rosenstiel School of Marine and Atmospheric Science. During my time as an undergrad I interned for the New England Aquarium in Boston, and the University of Miami's Shark Research and Conservation Lab, in both cases working on education and outreach.
After graduation, I moved to an incredible island called Eleuthera, one of the family islands of The Bahamas. I spent two years there working at the Cape Eleuthera Institute and Island School in a variety of roles. I primarily worked as an environmental educator, but also had some amazing opportunities to assist with field work for a variety of research projects at the institute, I become a certified divemaster and led SCUBA groups, and I worked with the communications team to help create visual and social media content to share the institute's work (you can check out some of my work here!). After two years, I decided to head back to school and back to the west coast and was excited to start my master's degree at the University of Washington in September last year.
I was drawn to this position with the Crab Team because I am interested in everything that Crab Team does: marine ecology, research, education, outreach, and science communication! Working with citizen science volunteers on a project involving an invasive marine species perfectly fits with my passion for bridging the gap between scientists and the public. I look forward to meeting all of you and seeing for myself the enthusiasm that you bring to this project, as I've heard so much about it from Emily and the rest of the team. If everyone were as passionate about science and protecting our environment as the Crab Team volunteers are, the world would be all the better for it. Here's to a 2018 field season with no green crab!