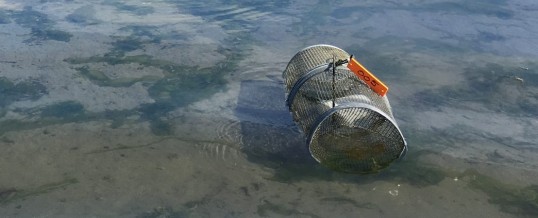 July 17, 2019
Drenched and muddy, but greatly relieved, we packed all 150 traps out of the Pysht estuary this morning. Over the past three days, in partnership with the Lower Elwha Klallam Tribe and Washington Department of Fish and Wildlife, Crab Team staff participated in an expanded assessment trapping effort that resulted in roughly 300 trap sets, and, most importantly, zero detections of European green crabs.
The Pysht river estuary is a huge and beautiful marsh, with miles of muddy channels, and lots of perfect green crab habitat. It's also the western-most Crab Team monitoring site situated in the Strait of Juan de Fuca just east of Seiku. Green crab have not been detected at Pysht during the past three years Ray Moses and Wilson Wells, who work with the Natural Resources Department at the Elwha Tribe, have been conducting Crab Team early detection monitoring at the site. Given the size, suitability, and location of the site, however, it was important to take a closer look. Green crab are relatively abundant in the two river estuaries of Makah Bay, just 40 miles to the west, and have been captured in somewhat smaller numbers at Dungeness Bay (about 40 miles to the east). For that reason, we had been concerned that green crab larvae could also have landed in this sweet spot along the relatively inhospitable (for green crab) stretch of the Strait of Juan de Fuca. In addition, the monthly monitoring protocols cover only a small portion of the acres of habitat suitable for green crab at the site, and we wanted to be sure they weren't hiding out in places we hadn't searched.
So, this week, we set out to tackle as much of the untrapped territory as possible. We teamed up with WDFW technician Chelsey Buffington, and staff and interns from the Lower Elwha Tribe's Natural Resources department, piled all our gear into the Crabbin' Wagon, and headed west.
We first piloted assessment trapping efforts like these in 2016, following the first green crab detections in San Juan Island and at Padilla Bay. The basic goal is to marshal as many traps, and cover as much ground, as possible given the tides and person power, to look for green crab. They are three, long and intense field days, deploying traps on the first day, checking and re-baiting on day two, and pulling all the traps on the final day. Since green crab favor small tidal channels and shallow water habitats, all of this work has to be done on foot. That's a lot of carrying traps across the marsh and mud, hopping in and out of channels, and withstanding pinches of countless crabs (nearly all native).
We love getting skunked on our aggressive search for green crab. In this case, not finding any was an even bigger relief than usual. With a couple of new detection sites in the past six months, we were nervous this assessment trapping effort might turn up a significant number of green crab. Of course, we know that not capturing any doesn't mean the site is definitively green-crab free, but it does give us much more confidence that if they are present at the Pysht, they are very, very rare. We hope it stays that way. The Elwha will continue to monitor this site as a part of Crab Team – green crab might not have landed in Pysht yet, but they could in the future.
In this effort, we were glad to be allied with new and seasoned mudders. In addition to Buffington, Moses and Wells, two interns with the Elwha, Lora Burke and Gillian, provided invaluable enthusiasm and commitment to the effort. We were also aided by the Merrill and Ring Tree Farm, which owns the upland property and allowed our crews to access the site via their roads. It truly wouldn't have been doable without any one of these folks. However, we could have done without the rain today – even the waterproof (pardon me, water resistant) data sheets were no match for the elements of the Pysht.
-Emily Grason