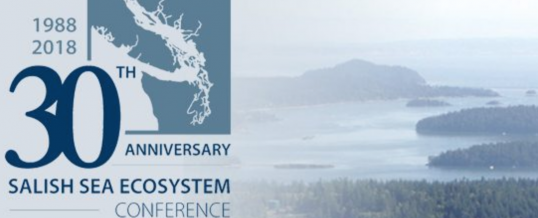 April 26, 2018
Between April 4th and 6th hundreds of scientists, managers, and policymakers descended upon the Washington State Convention Center in downtown Seattle for the 2018 Salish Sea Ecosystem Conference. From salmon and orcas to microplastics and harmful algal blooms, presentations at the conference covered an incredibly wide variety of topics — including invasive European green crab. WSG Crab Team collaborated with Washington Department of Fish & Wildlife to host two special sessions dedicated to the infamous invader. The first was a series of five presentations from researchers across the U.S. and Canada, focused on the history, current status, and emerging science of European green crab in the Salish Sea, while the second session was a panel of five managers and policymakers from Washington State discussing the opportunities and challenges facing the control and prevention of invasive green crab. This post and another blog post coming tomorrow will break down the highlights and major takeaways of each session so you can feel like you were there with us!
Session 1: "European Green Crab in the Salish Sea: Background, status, threats, and controls"
Crab Team Program Coordinator, Emily Grason, kicked off the session with a talk on the history of green crab on the West Coast, describing the range expansion from San Francisco in the 1980s, to the discovery of a population in Sooke Basin, B.C., in 2012, to present day with an overview of Crab Team's work to monitor sites throughout the Salish Sea. Comparing Crab Team data from the last three years to data from monitoring sites in Canada indicates that green crab in Washington's Salish Sea are relatively rare, newly arrived, and isolated at just a few sites (want to see what sites those are? Check out our interactive map here). While trapping in Sooke Basin and the Southern Gulf Islands of Canada has caught 666 crabs per 100 trap-days, trapping at Crab Team sites has resulted in just 1.5 crabs per 100 trap-days. Though this is good news for management purposes in Washington's Salish Sea, as Emily said, "the scope of green crab is more than 'it takes a village', but instead 'it takes many nations,'" alluding to the opportunity for transboundary, collaborative management with the Canadian government, Salish Tribes, and First Nations.
Next up, Brett Howard, a Ph.D. student at Simon Fraser University, presented a risk assessment of the diverse impacts green crab could have on Washington's coastal ecosystems based on the observed impacts of green crab invasions in other regions of the world. She discussed nine different categories: population, community, habitat, ecosystem, parasite, genetics, species at risk, 
industry, and global range. Each category was then ranked on two scales from low to high: "impact" being the potential severity of the changes caused by green crab in that category, and "certainty" being how confident we are that these changes would take place in Salish Sea ecosystems. Two categories that had particularly high impact and moderate to high certainty were population and habitat. Green crab are known to impact local, naturally-occurring shellfish, and long-term declines of shore crab abundance in California has been shown to be correlated with the presence of green crab. Additionally, green crab can be destructive to eelgrass beds, an important habitat for a wide variety of marine critters. Howard concluded her talk by expressing how important Crab Team's work is for establishing baseline data to better understand the impacts of invasive green crab.
The following two talks by University of Washington Ph.D. student in Oceanography, Elizabeth Brasseale, and  Dr. Carolyn Tepolt, a researcher at the Woods Hole Oceanographic Institute, both focused on trying to identify where green crab found in Washington's Salish Sea are coming from, specifically the individuals found at Dungeness Spit. Before these studies were completed, we had a strong feeling that individual green crab found at our sites in Washington's Salish Sea were coming from the larval dispersals of the closest known population in Sooke Basin. However, these studies found something else entirely. The oceanographic modeling study suggested that larvae from green crab populations at sites on the outer coasts of Oregon, Washington, and Vancouver Island were just as likely to enter the Salish Sea through the Strait of Juan de Fuca as larvae from Sooke. Following this information, the genomic study demonstrated that the population of green crab at Sooke is genetically distinct from all other green crab populations along the West Coast and that the Dungeness Spit population resembled outer coast green crab, not Sooke. In fact, the green crab population at Sooke is so distinct from other West Coast populations that, in the future, we'll only need genetic samples from a few individuals at a specific site to determine whether or not they came from Sooke. As for the individuals sampled from Dungeness Spit, we still cannot be sure exactly which coastal site or combination of sites they're coming from. For more detail, check out our previous blog post summarizing the studies and their implications for management.
Finally, Dr. Catherine de Rivera, Chair of Environmental Science at Portland State University provided insight into whether or not we should be considering management of invasive green crab in the Salish Sea, and if we do pursue management, how we might go about it most effectively. Dr. de Rivera detailed the case of Seadrift Lagoon, located just North of San Francisco, as an example: with
the most dense green crab population anywhere on the West Coast, it is a site that has received attention from both the press and researchers. A several-year trapping effort to remove green crab from the lagoon began in 2006, bringing the population down to 8,000 from 100,000 individuals. However, when researchers returned in 2014, they were shocked to find about 300,000 individuals—the population had exploded. By removing all the crabs large enough to be caught in their traps, they had essentially removed enough cannibalistic adults that the young green crab survived at a much higher rate. This is a phenomenon called overcompensation and is a factor that somewhat complicates the potential management strategies for green crab. However, Dr. de Rivera pointed out that overcompensation does not occur at all sites, so there is still a strong case for effective management of green crab, especially under our current circumstances. Given the availability of engaged stakeholders, local early detection infrastructure and resources, and the opportunity to get ahead of the invasion, Dr. de Rivera strongly recommended pursuing management options in the Salish Sea.
That wraps up the first special session of the 2018 Salish Sea Ecosystem Conference, check back in tomorrow for our next blog post on the second special session that covered the opportunities for management of European green crab!
– Kelly Martin
Learn more about the 2018 Salish Sea Ecosystem Conference at this website, or check out some of the highlights on Twitter by searching for #SSEC18
Feature Photo: From the SSEC website