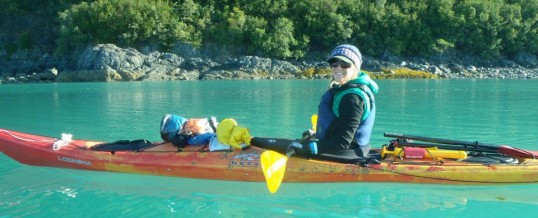 April 9, 2020
Dear Crab Team enthusiasts, I'm excited to introduce myself as the new Crab Team coordinator. During these unusual times, I know that many of us are striving to fill our days with meaning and more time outdoors. Once it is safe to do so, I look forward to doing both in the name of Crab Team. In this position, I will support program volunteers and partners through site visits, training coordination, data submission processing and science communication. By addressing program needs and increasing efficiency, I aim to amplify the reach and impact of this crucial community science monitoring program. I am grateful for the opportunity to join this meaningful work, and I look forward to building capacity for effective coordination across diverse partners and volunteers in Washington and beyond.
Before joining Crab Team, I spent six summers in Alaska, working as a naturalist, interpretive park ranger and science communication intern in Glacier Bay National Park and the Prince William Sound Science Center. In 2015, I moved to Seattle for graduate school at the University of Washington's School of Marine and Environmental Affairs where my research involved documenting the socioeconomic impacts of fisheries closures due to harmful algal blooms on the Washington and California coasts. Upon graduation, I had the opportunity to work with NOAA scientists to tell the stories of these individuals impacted by the fisheries closures through video and story map production. Over the past two years, I have been lucky enough to work with passionate volunteers in Kitsap County through my role as the Water Stewardship Coordinator with Washington State University Extension. In this position, I designed educational public events, connected volunteers with local environmental projects and programs, and developed educational trainings about salmon and both fresh and saltwater ecosystems. I love finding new ways to learn and share environmental knowledge, and I look forward to bringing this experience to my work on Crab Team this year. Thanks to this position with WSU Extension, I already know several Crab Team volunteers from Kitsap County, and I look forward to continuing to work with you all in a new capacity!
I am so impressed by Crab Team's inclusive approach to scientific research, engaging with both volunteers and partner organizations from communities across the Puget Sound region. Through my past experiences with science communication, I have developed a deep respect for the need to extend scientific conversations beyond the university sphere, and Crab Team is such a wonderful embodiment of community engagement with science. The more I learn about the varied roles that volunteers and partners play in this important monitoring program, the more excited I am to join such a passionate and skilled team. I can't wait to meet and learn from you all soon.
Feel free to shoot me an email if you'd like to introduce yourself in our current days of social distancing. Stay safe and healthy, everyone.
-Amy Linhart
Header photo credit: Kaylin Mason