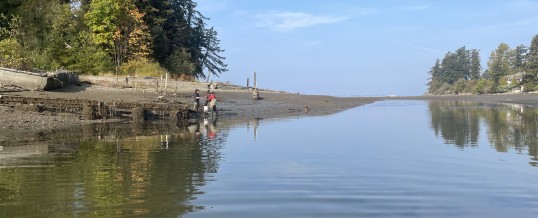 Header Photo: Beautiful early morning field day at Dakota Creek, Drayton Harbor. Crab Team and WDFW staff check a trap. Photo: Leah Robison
October 18, 2022
Hello Washington Sea Grant Crab Team enthusiasts!
I'm very excited to introduce myself as the new Crab Team Early Detection Project Assistant. I'll be here through the end of the year to help develop a new early detection program aiming to complement your stellar monitoring efforts with a less intensive and more broadly accessible protocol for conducting and reporting molt searches along inland shorelines. Molt hunts all around! I'm currently spending the other half of my time as an Ocean Policy Associate at the Seattle Aquarium, and I recently graduated with a Masters from UW in the School of Marine & Environmental Affairs. While at SMEA I studied bull kelp conservation and management, algal communities, and the intersections of science, public policy, and natural resource management. Before starting graduate school I worked at the Aquarium as a Marine Science Interpreter, studied climate change impacts on juvenile flatfish habitat at the NOAA Alaska Fisheries Science Center and (most exciting of all) was a Crab Team undergraduate intern in 2017! I'm thrilled to be back and looking forward to working alongside you all in this new role. – Staci McMahon
I am excited to introduce myself as the new Crab Team Postdoctoral Fellow. My position is with the University of Washington Program on the Environment, but I will be working directly with Crab Team on the analysis of data collected by the team and its dedicated partners. In particular, I am interested in exploring how and why the diversity and abundance of organisms captured in Crab Team survey efforts changes over space and time. Understanding these patterns and how green crabs influence the ecology of Washington's bays and pocket estuaries will allow us to better limit their negative impacts. Given that this is a data analysis position, I'll be spending most of my time behind a computer—but I am very keen on getting out into the field and helping with surveys! I began this position on September 16, and while I am currently living in Oakland, California, I'll be moving up to Seattle by January 2023. Prior to joining the Crab Team, I was a postdoctoral fellow with the Smithsonian Environmental Research Center in the Marine Invasions Lab. In this role, I analyzed data to determine how detection of introduced species has changed over the last 20 years in Chesapeake and Tampa Bays. I also coordinated and helped establish an early detection monitoring program called the Great Lakes Invasives Sentinel Site Network, which focuses on introduced invertebrate species in Lake Superior. Before my time at the Smithsonian, I did my PhD at University of California Davis, where I studied how filter feeding invertebrate communities and their predators vary over space and time. Fun fact: many of the critters that the Crab Team captures in traps are predators of the filter feeding invertebrates I studied in my dissertation! I completed my B.S. in Environment and Natural Resources at The Ohio State University, where I was able to get involved in both fresh and salty aquatic research. Having grown up in a forested area of the suburbs of Cincinnati, Ohio, I spent much of my childhood exploring creeks and streams, counting down days until the next time I saw the ocean. I am so grateful and excited to continue my dream career as a marine ecologist working with the Crab Team! I look forward to exploring the survey data and I'm even more excited to talk about the results with the Crab Team and its various partners, including tribes, shellfish growers, community members, and regulatory agencies. If you have questions, ideas, or suggestions about the analysis of the Crab Team survey data, or if you want to chat more generally about biological invasions and invertebrates, please contact me directly via email at rubinoff@uw.edu.
– Ben Rubinoff