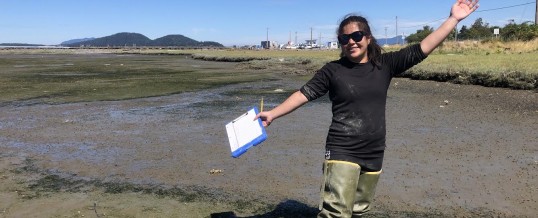 Header Photo: My first time working in mud flats at Fidalgo Bay which involved a mix of getting stuck and lots of fun! Photo: Emily Grason
September 20, 2022
Hello Crab Team enthusiasts! I am excited to introduce myself to you all as the new Crab Team student assistant. These past few months, I have been doing lots of data entry and am so impressed with this team's work. I have also had the pleasure of working with some of you in the field which has been very exciting. I will be supporting Crab Team through administrative support, education and engagement, and gear management. I look forward to participating in more field activities and learning from you all!
My Background
I was born and raised in Honolulu, Hawaii and have been exploring tropical waters since childhood. I recently moved to Seattle to start my marine biology studies at the University of Washington. While learning about the Pacific Northwest ecosystem, I have conducted field research and lab work to understand the effects on ongoing changes in ocean conditions on key marine ecological relationships. I have characterized microhabitats of Northern kelp crabs via snorkel surveys to determine the magnitude of biotic stressors on bull kelp. I have also studied the effects of mussel filtration rates in present and future predicted water conditions to get a glimpse of mussels' ability to mitigate phytoplankton blooms. The lab work I have conducted includes analyzing the abundance and diversity of invertebrate prey availability for upper trophic levels and analyzing the pinto abalone growth in hatcheries to help restore the endangered population.
For the next two years, I will be continuing my studies at the University of Washington through the School of Marine and Environmental Affairs. I hope to widen my scope of knowledge to include public policy and gain the social science perspective necessary to tackle multifaceted environmental problems and work towards large-scale equitable change. While working with crab team, I hope to learn more about invasive species management and sharpen my marine species identification skills. I also volunteer at the Seattle Aquarium and will be continuing to facilitate conversations with guests to share conservation stories so they better understand and can protect our marine environment. The enlightened faces that I see when sharing my stories have motivated me to continue my passion for marine conservation and community engagement! I'm excited to carry on this work with you all!
– Aina Hori