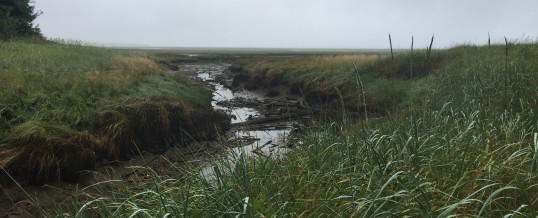 November 3, 2016 
This series of three posts was originally written in August, but was pre-empted by the news of European green crab captures on San Juan Island and in Padilla Bay. Better late than never, here are our field notes on green crab trapping in Willapa Bay during August of this year. Of course, reading back on it after spending September in the mud, our previous eagerness to get in the field now seems…charming.
We staff members of the Crab Team couldn't take it any more! Every month, we receive dozens of pictures of our volunteers having a great time in the field, checking out cool critters, enjoying the sun (or rain), and spending time in beautiful places looking very closely at nature. Don't mistake us, we do love sorting through data and uncovering patterns, and taking care of the logistical needs of the project. But sometimes, we just have to get out there and smell the mud for ourselves!
In August, Sean and I headed to Willapa Bay for a four day field trip to trap for European green crab. We had heard several reports from shellfish growers this spring and summer that they were noticing many more green crabs than in the last decade or so, and even a few reports from Grey's Harbor (read our newsletter article Green crabs: In hot water and loving it for an explanation of why). So, we could barely contain our enthusiasm at the opportunity to get out there and get traps in the water. We even timed the trip so that we could trap simultaneously with researchers in Oregon, looking for green crabs in Coos and Yaquina Bays.
Now that we have scrubbed most of the mud out from under our fingernails, it's safe to use our computers and update you on how the trip went. Over three posts, we'll share some excerpts and notes from our "field journal":
Day 1: August 14
The truck is packed! 40 traps and 50 lbs of mackerel and off we go: First stop is Oysterville on the Long Beach peninsula just north of Nahcotta. Even though we set both minnow and Fukui traps, we were actually looking at snails! Both Emily and Sean have been watching the population of an invasive snail called Batillaria attramentaria (Asian mud snail) at this site since 2007. This snail is also found in many places in Puget Sound, but it remains isolated – as far as we know – to this single site in Willapa Bay where it persists at low densities. We were curious to see if green crabs were present at the site, and whether they impacted the population of Batillaria. Some of our monitoring sites inland also have Batillaria, and many of our volunteers are providing excellent insight into those populations – which are so abundant they could be a good food source for green crabs if they arrive!
We also stopped by the site where we planned to set traps the next day, Stackpole, near Leadbetter Point State Park, just to scope things out.
Highlights: The higher-low tide wasn't very low, so we waded out in wet suits, which turned out to be entirely unnecessary. The fact that we didn't need our wet suits didn't make it easier to get them on or off.
–Emily Grason
Return to News page.
Return to Crab Team home page.
Follow @WAGreenCrab