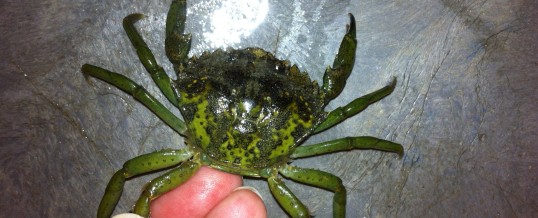 September 23, 2016
Hot on the heels of the recent capture of the first confirmed European green crab along Washington's inland shorelines by Crab Team volunteers, a second individual live invasive crab was caught in Padilla Bay, near Mt. Vernon, earlier this week.
The individual crab is a 34 mm female, and the small size suggests she is a young of the year, possibly arriving as a larva last winter. The crab was found by staff of the Padilla Bay National Estuarine Research Reserve (PBNERR) while overturning rocks with a group of students.
Similar to the capture at Westcott Bay, Crab Team, Washington Department of Fish and Wildlife (WDFW), and PBNERR are teaming up to conduct a rapid-response trapping effort early next week. The goal will also be to saturate the area with traps to identify whether other green crabs might be surviving elsewhere in Padilla Bay.
Crab Team volunteers do not currently maintain a monitoring site in Padilla Bay, but several sites nearby, including Fidalgo Bay and Kiket Lagoon, are monitored by Crab Team volunteers. No evidence of invasive green crabs have been found at any of those sites so far. In addition, PBNERR staff have been conducting trapping for European green crabs annually since the initial range expansion in the late 1990's – again with no evidence of invasive green crabs.
For more details, read the press release.
There's more! Read about our rapid assessment trapping in response to this capture.
Return to News page.
Return to Crab Team home page.
Follow @WAGreenCrab