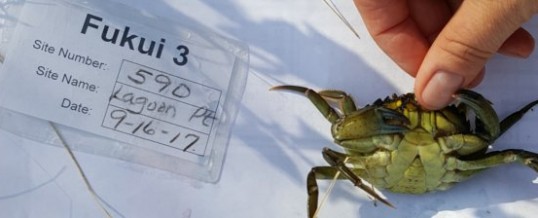 September 19, 2017
Crab Team volunteers at Lagoon Point, on the west side of Whidbey Island, captured a single European green crab in their final sampling effort for this year. The male crab, at 47 mm across the carapace, is most likely a 2017 crab, part of this year's cohort. A team of four volunteers from the island has been monitoring the site, April through September, for the past two years, but this is the first evidence of European green crab they have found. The community of Lagoon Point is built around a marina, and managed by Lagoon Point Homeowners Association, who has kindly given Crab Team the permission to conduct monitoring for this globally damaging invasive species. The monitoring site itself is in a small, protected lagoon, connected to the marina by a culvert (see the Crab Team site map). Protected sites like this lagoon could afford green crabs refuge from larger predatory crabs and fishes.
This capture, occurring south of Admiralty Inlet, is the furthest into Puget Sound that green crab have been captured to date. Crab Team is currently discussing plans to conduct additional surveys in the area to assess the extent of any green crab population. Due to the changing tides and temperatures, September is the final month of regular early detection monitoring for Crab Team, but monitoring will resume in April 2018. Stay tuned to the Crab Team blog to keep up to date on what we learn.
A few reminders about keeping your eyes on the beach
Late summer and early fall is often when we expect young of the year crab to be large enough to first be detectible. If you are out and about on the water, we appreciate you keeping your eyes peeled. Here are a few guidelines about how you can help be on the lookout for green crab:
Respect private property. The inland shoreline at the Lagoon Point community is privately-owned. At any shoreline, be aware of ownership and never enter private property without permission.
Know your natives. We have several species of native crab that are "green" or "greenish" that are frequently confused with European green crab. Check out some crab identification resources on our webpage.
Take several photos. The only thing we need to positively ID a crab is photos. Take several from different angles (including the underside) and distances, and include something in the photo for size reference (a coin or keys).
Leave the crab in place. It's illegal to possess a live European green crab without a special permit (our volunteers earn theirs through our training). If you find a molt of a European green crab, you can keep that, but any live crab must be left in place.
Report sightings to Crab Team by emailing photos and detailed location information to crabteam@uw.edu.
–Emily Grason