May 15, 2020
By Abby Rogerson, WSG Student Assistant
We love the quarantine kitchen enthusiasm, especially since it's been encouraging people to cook more seafood at home and try out different types of seafood. This recipe uses pink salmon; though less commonly seen on the menu, it is the most abundant species of Pacific salmon. The Washington Department of Fish and Wildlife (WDFW) manages Washington's commercial fisheries, and they're working hard to keep fishermen in business and the public supplied with sustainable seafood during these challenging times. Learn more about how Washington Sea Grant and WDFW are supporting the seafood industry here.
We borrow this spring-forward version of gravlax from Mary Dougherty, author of "Life in a Northern Town" cookbook and Cookery Maven blog. Serve it atop a cracker or slice of rye bread with a smear of cream cheese and some dill sprigs for a fancy snack or casual supper!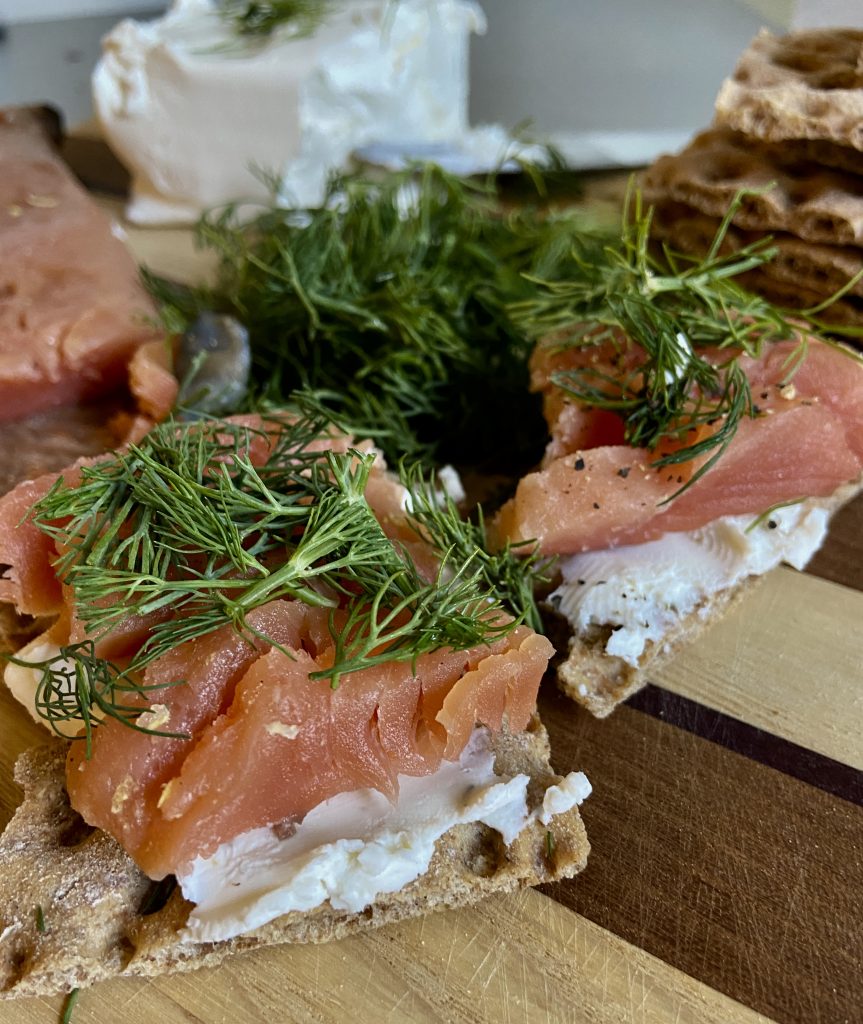 Ingredients
Gravlax
½ cup kosher salt

⅓

 cup sugar
Zest of 1 lemon
Zest of 1 grapefruit
1½ tablespoons fresh ginger, finely chopped
1 tablespoon juniper berries, crushed
1 shallot, thinly sliced
Black pepper
1 full side of pink salmon, with skin on (1 – 1½ pounds)
1 fennel bulb (only the fronds are needed), chopped
For Serving
Dill
Capers
Plain cream cheese
Crackers, slices of baguette or rye bread
Instructions
Step 1: Thoroughly mix the salt, sugar, lemon and grapefruit zest, ginger, juniper berries, and shallot together in a medium bowl. Add a generous grind of black pepper to the mixture.
Step 2: Lay down a piece of plastic wrap longer than the length of your salmon fillet. Sprinkle ⅓ of the fennel and ⅓ of the salt mixture onto the plastic. Place your fillet skin-side down atop the fennel/salt. Sprinkle the rest of the fennel and salt mixture on the flesh side of the salmon. 
Step 3: Wrap the plastic wrap tightly around the salted fillet, using more if needed. Pierce some small holes in the plastic wrap. The fish will release liquid as it cures, so you want it to be able to drain.
Step 4: Set the salmon on top of a wire rack, and put that wire rack on a sheet pan to catch the drippings. Put another sheet pan on top of the salmon and weight it down with some canned goods or a heavy cast-iron skillet.
Step 5: Put the salmon in the fridge to cure for 2 – 3 days, flipping once a day. The longer you let it cure, the firmer and saltier it will become.
Step 6: Unwrap the salmon and rinse with cold water. Pat dry with a paper towel or clean dish cloth. Slice across the grain using a very sharp knife. Serve with the fixings and enjoy!