July 24, 2020
Here at Washington Sea Grant, we love sharing our best #LocalWASeafood recipes with one another. Thanks to Alex Stote, Crab Team Coastal Specialist, for sharing this delectable and easily customizable recipe for seared halibut cheeks with creamy cauliflower puree and roasted green beans. 
Pacific halibut are the largest of all flatfish species – they can grow up to eight feet long and weigh a quarter of a ton, explaining why their cheeks alone are enough for dinner! The population off of Washington's Coast has been on the rise since 2013, making locally caught Pacific halibut a smart seafood choice. For more dinner ideas featuring local, in-season seafood, check out WDFW's resource page, linked here.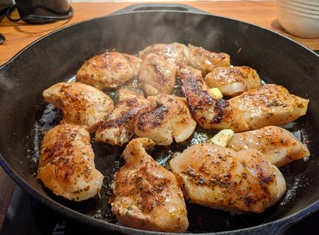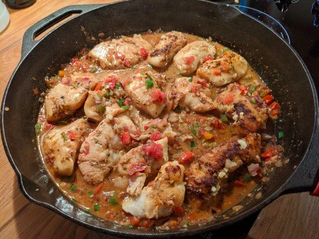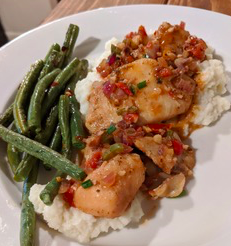 Seared halibut cheeks:
WA fresh caught halibut cheeks
Seafood seasoning (e.g. Cajun spice, Old Bay)
Olive oil
1 shallot, diced
3 cloves garlic, minced
1 large Roma tomato, seeds and juice removed, diced
1 poblano pepper, diced
3 tablespoons butter
1/4 cup white wine
1/2 lemon (or lime), juiced
Soy sauce (optional)
White wine vinegar (optional)
Heat olive oil in a cast iron skillet. Rub seasoning all over the halibut while the oil heats up. Add the seasoned halibut and let cook until golden brown.
Flip the halibut and add butter, shallots, and garlic. Let cook until nice and brown. Flip once more and add pepper and tomato. Let everything simmer together for 3-4 minutes.
Add the white wine. If using the soy sauce and/or white wine vinegar, add a dash of both now for an extra boost of flavor. Simmer for 5-10 minutes until the halibut is tender and cooked through.
Remove the halibut cheeks and cook the sauce down to desired consistency. Spoon the sauce over the halibut and cauliflower puree.
Creamy cauliflower puree:
1 head cauliflower, chopped
Cream
Salt and pepper
Boil a large pot of salted water. Add the chopped cauliflower and boil for 10 minutes.
Remove the cauliflower from pot. With a food processor, puree the cauliflower until its creamy. Add cream, salt, and pepper until it's as rich and seasoned as you like.
Roasted green beans:
1/2 pound green beans, ends snapped off
Olive oil
Red pepper flakes
Salt and pepper
Preheat oven to 350.
Toss green beans with olive oil, salt, pepper and red pepper flakes. Roast for 20-25 minutes.