Sea Wolf Adventures takes passengers with disabilities to the Pacific Northwest's most beautiful places
From the spring 2020 Sea Star print newsletter
Kimber Owen, owner of Sea Wolf Adventures, has an exceptional memory for the people that she's taken on her 12-passenger cruise ship, which frequents Pacific Northwest jewels such as the San Juan Islands and Glacier Bay National Park. There was the police officer who wanted to propose to his girlfriend but, fearing he wouldn't be able to keep up with her, was scared to pop the question. There was the almost 30-year-old man on the trip with his parents, who was struggling to strike out on his own. There was a mother who could never figure out what kind of vacation her whole family would be able to go on and enjoy—until she signed them up for a trip on the Sea Wolf.
These are seemingly ordinary concerns, but all of these former Sea Wolf passengers share something that makes many of life's quandaries more difficult: they are disabled. Despite the challenges these passengers may face, Owen's mission is to ensure they have access to the inspiring places that she visits. "Nobody should be denied anything of nature," Owen says. Washington Sea Grant (WSG) is proud to offer first aid and sea safety training to the crew of Sea Wolf Adventures, which helps Owen accomplish her mission while keeping passengers and crew safe.
Owen first witnessed the benefits of getting out into nature when she owned and operated a therapeutic horse farm in Texas with her late husband in the 1980s and 90s. The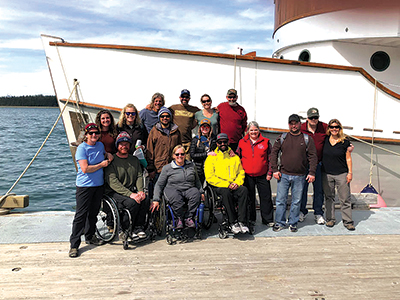 impact she felt she was able to make in this work prompted her to decide to run a tourism boat for people with disabilities. She was scouting the docks in Bellingham, Washington, for a vessel that might serve this purpose, when she came upon an old harbor mine sweeper for sale.
The boat was beautiful. It was one of 70 wooden mine sweepers built in Antioch, California, in 1941—a couple of years before they started making this type of boat from steel. Originally called the USS Observer, the boat served in San Francisco until 1947, where it would sweep for mines and then pull a net across the harbor so that U-boats and other submarines couldn't get in. The vessel was painted in all black with machine guns on her bow and stern.
By the time Owen first saw the boat in 2003, it had already lived multiple lives. In the early 1950s, it served as a glamorous party boat for a wealthy family who took it to faraway destinations, including the Galapagos Islands. A conservation non-profit found the boat abandoned in Mexico, and purchased it to bring to Alaska to start conservation tourism in the Tongass National Forest. The boat was then bought by a crab fisherman in Bellingham, who decided to sell after only a few months. That's when Owen found the classic vessel.
When Owen first toured the Sea Wolf's decks, she thought that it wasn't the boat she was looking for after all. The walkways were too narrow to allow for wheelchairs to pass, and she thought the final price would be out of her budget. But later, the owner called her. "I really believe in your vision," he said. "And I think we can make this work." Owen decided to go for it.
She worked with Mike Passo, an adventurer with paraplegia who ran kayak and camping trips in the San Juan Islands, to come up with a plan for how to make the Sea Wolf accessible, including widening the walkways. Now, three of the boat's six state rooms are wheelchair accessible, and it includes features such as a wheelchair elevator to get onto the upper deck. While the Sea Wolf doesn't qualify as fully ADA compliant, Owen says many passengers have told her the boat's setup is better than ADA. "We call it visitability," Owen says.
These efforts have not gone unnoticed. In 2011, Sea Wolf Adventures won the National Park Service National Accessibility Achievement Award, an honor awarded to Owen in Washington, D.C. In 2015, Sea Wolf Adventures also won the National Park Service Environmental Achievement Award for Owen's commitment to conservation-driven tourism.
Today, Owen works with Craig Hospital, a rehabilitation and research center for patients with spinal cord and brain injuries, offering a yearly trip for the center's patients. The Sea Wolf is equipped with adaptive gear so that these passengers can get out on the skiff or even paddle a kayak. Beyond the access to stunning landscapes and adventures, these trips also offer the opportunity to build community. "[The passengers] talk about their injuries and how their lives have been impacted," Owen says. "It's really beautiful." In addition, Owen takes disabled passengers on trips on the Sea Wolf throughout the year; most passengers learn about the boat through word of mouth.
Word of mouth is also how Owen learned about the first aid at sea and safety trainings run by Sarah Fisken, marine operations specialist at WSG. Owen and her crew first took one of Fisken's courses in 2003, and they continue to take the training every two years. While many vessel operators might only enroll their captain in sea safety training, Owen insists that her whole crew sign up. "If something were to happen, I want everyone to know what to do," she says. "Practice doesn't make perfect, but it does make you more comfortable." The courses have been adapted to suit the needs of all Sea Wolf passengers: for example, the training might include a fire drill in which someone on board is in a wheelchair, or it might include a practice that involves getting someone into a survival suit who is unable to do it for themself.
This type of preparedness ultimately fosters the confidence that can lead to pivotal experiences. The police officer who was scared to propose to his girlfriend? A few months after he returned, they were married. The young man frustrated that he was still living with his parents? Within a year, he moved into a place of his own.
"This boat changes peoples' lives," says Owen.