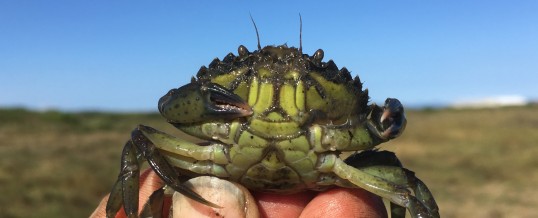 Header image by Allen Pleus (WDFW)
September 29, 2016
The joint effort by WSG Crab Team, Washington Department of Fish & Wildlife (WDFW), and Padilla Bay National Estuarine Research Reserve (PBNERR) to assess the abundance and distribution of invasive European green crabs in Padilla Bay wrapped up yesterday (read about day 1 and day 2). We checked and removed all 186 traps from 31 sites.
One green crab was captured on the second day of trapping, a 58 mm male, at a site where no crabs had been captured during the previous day of trapping. We can't be certain how old this crab is, as it is within the range of crabs that could be 1-2 years old. Added to the individual female found by PBNERR staff last week, this brings the total number of invasive crabs detected in Padilla Bay to four crabs found at four separate sites spanning a range of about seven miles of shoreline. Here is Crab Team's Sean McDonald just after capturing the first invasive crab during the rapid assessment. Thanks to Allen Pleus of WDFW for capturing the video!
You might be interested to know just how hard we looked for these crabs. Here are the stats on the rapid assessment effort:
31 sites in Padilla Bay
Average of 6 traps per site
2 overnight trap sets
182 traps on Day 1
186 traps on Day 2
368 traps set total
13 staff involved: 4 WSG Crab Team; 4 WDFW; 5 PBNERR
4 days of field work
31 personnel-days total
When you really get down there in the mud in Padilla Bay, you realize just how bit it is. The total area of the bay is about 20 square miles, thats 15 times the size of Central Park, or 24 times the size of Discovery Park, to provide a more local point of reference. All of the detections of European green crabs occurred on the east portion of the bay. Though the sites varied somewhat in the type of habitat, all of the crabs were found relatively high on the shore, in high salt marsh pools, or within a few meters of the shore. Padilla Bay has about 20 miles of shoreline, and, at last count in 2004, there were 143 acres of salt marsh habitat in the bay. These numbers suggest that there are a lot of places European green crabs could live in Padilla Bay, and protecting the bay from this global invader will undoubtedly require a cooperative effort.
At least 3 of the 4 crabs were young-of-the-year, possibly having washed into Padilla Bay on last winter's warm tides and currents. By contrast, the only evidence that was found of European green crabs on San Juan Island was of adult crabs, indicating different timing of the crabs' arrivals in these locations.
As we go about cleaning up and storing the gear, and getting the mud and mackerel out from under our fingernails – again – the partners in the assessment will be reconvening to discuss what these sightings mean, and the next steps for future monitoring and response efforts. Though finding several crabs in this assessment was sobering, one thing that Padilla Bay has going in its favor is that it is intensively researched. Padilla Bay is one of 28 National Estuarine Research Reserves nationwide, and the only one in Washington State, and is studied by NERR research scientists, volunteers, and students, year round. That is a lot of eyes on the beach to help combat invasive green crab, and we will likely need all of them.
You can see much more of our trapping effort on our Facebook album.
-Emily Grason
Return to News page.
Return to Crab Team home page.
Follow @WAGreenCrab