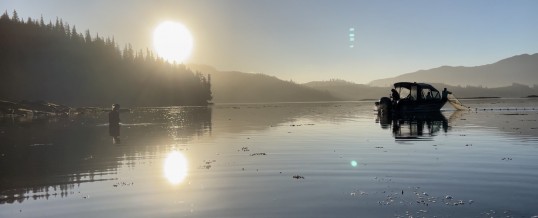 September 20, 2023
Hello WSG Crab Team Community!
My name is Elyse Kelsey and I am thrilled to be joining Crab Team as a Student Assistant. I just missed the field season this year but I am excited to meet and work alongside the incredible volunteers and partners that make this work possible next summer! For the next few months, I will be keeping busy by entering data, managing field gear, and offering administrative support from the WSG Crab Team office.
My Background
I grew up in the Seattle area and was not an outdoorsy person for most of my life. I got my first taste of field work my senior year of high school when I traveled to Northeastern Peru on an Earthwatch Expedition. I learned about the incredible biodiversity of South America while conducting surveys to monitor wildlife populations in the Pacaya-Samiria National Reserve. Before that trip, earning a degree in Environmental Science was not on my radar but in 2016 I moved up to Bellingham to attend Western Washington University and do just that! While earning my degree, I participated in Environmental Science Field Camp where I conducted research on amphibian abundance and distribution as well as wetland habitat characteristics in the Olympic National Park's Elwha River Basin. I also studied abroad in New Zealand through Wildlands Studies where I backpacked the North and South Islands for six weeks. I learned about the country's unique insular ecology and invasive species management that is key to protecting many endemic species.
I have been fortunate to continue traveling and working outdoors in many seasonal positions following graduation. I interned at a wildlife rehabilitation center on San Juan Island where I got hands-on experience caring for native species like harbor seal pups. I also worked for Washington State Parks where I maintained campsites and facilities during the busy summer months of 2020 when it seemed like everyone wanted to get outside as much as possible. That same summer, I assisted with cetacean necropsies and endangered shorebird surveys in Grays Harbor County. In the fall of 2020, I began a graduate certificate program in Data Science for Environmental Applications through Western Washington University. The year-long program focused on graduate level analysis and modeling that prepared me to work with large, complex datasets (much like the data for Crab Team!).
I eventually moved back to Seattle working for the Issaquah School District where I created educational curriculum and activity programming for elementary-aged students. My job contract was for the academic school year which allowed me to work as a field technician for the University of Alaska Fairbanks APECS Lab during the summer of 2022. I worked under the supervision of a Ph.D. candidate collecting data on nearshore fish assemblages and their associated habitats along the western coast of Prince of Wales Island. Knowing those species ID's will definitely be useful next field season!
What Brings Me to Crab Team
Now, I am beginning my first year as a graduate student in the University of Washington's School of Marine and Environmental Affairs. I am hoping to combine my background in education with community outreach and citizen science to promote marine conservation. WSG Crab Team is such a wonderful example of the intersection of ecology, research, education, and citizen science and I am excited to be a part of this dedicated team.
— Elyse Kelsey 
Header Photo: APECS Lab 2022 Field Team setting a beach seine net from a boat in Southeast Alaska. Photo: Elyse Kelsey