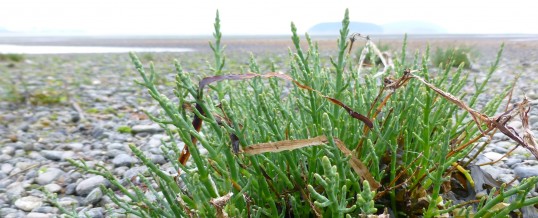 Happy New Year!
While the weather outside the Crab Team offices makes us happy that it is not yet time to start monitoring this year, we are all hard at work getting ready to launch the 2016 monitoring season – starting with this fantastic new website – made possible by Robyn Ricks, Marcus Duke, MaryAnn Wagner, and the communications team at WSG!
Building on the success of 2015
Last year was a very successful pilot year and we are much indebted to our "Shakedown Crew" of 30 volunteers at 7 sites who helped us evaluate the monitoring protocol. Natalie White, a UW Program on the Environment Capstone student, conducted an analysis of volunteer feedback and observations on monitoring, with the goal of improving our training and protocol, to ensure we are prioritizing the Crab Team goals:
Detect European green crab at the earliest possible stage of invasion, to increase the ability to control populations and reduce green crab impacts.
Build a long term dataset on green crabs and other mobile organisms living in soft sediment habitats to improve the understanding of Washington's pocket estuaries and salt marshes, and track green crab impacts.
Accomplishing these goals would not be possible without the talent, diligence, and dedication of volunteers, so we want to make sure we are doing the best job we can to design a protocol that is actually doable (and effective), and not just the brainchild of us crazy scientists sitting warm and dry around a conference table. We also want to make sure we are doing a good job communicating the protocol, teaching identification, and providing support. We will have more information on what we learned from this feedback in a future post.
We are also greatly indebted to the organizations that helped us launch in 2015. These groups helped host trainings, reach out to potential volunteers, and generally facilitated our pilot year: Sound Water Stewards (formerly Island County Beach Watchers), Thurston County Stream Team, South Sound Estuary Association, and Port Townsend Marine Science Center. We consider ourselves fortunate to be part of such an active and engaged community of coastal stewards!

Looking forward to 2016
April sure seems a long way off right now, but it has a habit of sneaking up on us! Because we are expanding our outreach and monitoring this year, the Crab Team has a lot to do to get ready for monitoring to start in April.
We will be hosting a series of short seminars on the threat of the green crab invasion throughout the region in January and February. If you are interested in learning more about green crabs and why we are concerned, check out our events calendar to find one at a convenient time and place. More will be added, so check back soon!
For new and returning volunteer monitors, we will be hosting day-long training workshops throughout Puget Sound, the Strait of Juan de Fuca, and the San Juans in March. We will post them on the calendar as we get the schedule finalized.
As we expand from 7 – 25 monitoring sites this year, we are excited to welcome many new faces to the Crab Team monitoring crew! Keep up to date with all new event announcements by following us on Twitter (@WAGreenCrab) and Facebook (WSG Green Crab).
Return to Crab Team home page.
Follow @WAGreenCrab