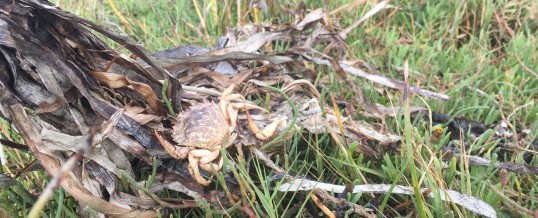 November 8, 2016
This series of three posts was originally written in August, but was pre-empted by the news of European green crab captures on San Juan Island and in Padilla Bay. Better late than never, here are our field notes on green crab trapping in Willapa Bay during August of this year. Read part 1.
Day 2: August 15
Up at 5 am to catch first light at 6. Back to Oysterville to pick up the traps – no green crabs, but a good showing of Dungeness crabs and a few native shore crabs. We set the traps across an elevation gradient, and on the trip back to shore (well the second trip actually – in the spirit of the Rio Olympics, I participated in the lesser-known "field event" called Sprint 0.9 Km Across the Mud and Back in Hip Waders to Get New Batteries for the GPS. Other than the tide, I didn't have any competition in this footrace, but let's just say I did Crab Team proud) we collected data on the number and size of Batillaria every 50 meters or so. When we look at the depths that snails and crabs are found at, it's clear that the native Dungeness crabs like eating Batillaria!
After a thorough cleaning of the traps, bait jars and our selves – oh and a critical stop for pancakes and coffee – we headed back north to Stackpole. This site was the most intensively monitored by Washington Department of Fish & Wildlife (WDFW) during the first several years after the initial 1997-1998 invasion. At that time, the site also had a very large bed of the invasive cordgrass Spartina alterniflora. This species is native to the US east coast, and was a major problem in Willapa Bay at the time. The grass creates dense mats of roots that anchor the sediment in mudflats, and the stems cause more sediment to build up, raising the elevation of the tide flat and turning it into marsh. This reduces the amount of space for oysters and shellfish to grow, and for Dungeness crabs, salmon, and birds to forage. A major control effort has dramatically reduced Spartina coverage in Willapa Bay, and the tideflats continue to recover, though the process is slow because the root mats are very tough. The point of this Spartina sidebar is that the invasive grass created very good habitat for green crabs. The larger Dungeness crabs couldn't fit between the dense stems at higher elevations to eat green crabs. We wanted to trap at Stackpole to see how green crabs, if they were present, responded to the dramatically different landscape.
We had one additional goal of trapping as well. Our volunteer monitoring program uses mackerel as bait. The oily stinky fish is great crab bait, but kind of unpleasant to handle, and it is a lot of work to prepare pre-weighed individual portions for 25 sites for 6 traps for 6 months of trapping. Is that work really necessary? When we started monitoring, we polled crab researchers about whether we could use cat food instead, but the response was unanimous that cat food was no good. However, we are data driven people, so we decided to do our own test. In 2015, a Crab Team Capstone Student, Bryton, worked with us to conduct a bait assay at 5 sites in Puget Sound. Those results suggested that neither abundance nor the number of species captured in a trap depended on the bait type. But, because our program is looking for green crabs, we still needed to test in a place where we know there are green crabs!
40 traps later, we were off the mud and had just enough time to grab a bite to eat before all of Long Beach closed down for the night.
Highlights: We had just enough time to grab a bite to eat before all of Long Beach closed down for the night.
Day 3: August 16
Up at 5 again and out at Stackpole to retrieve the traps from the previous night. We collect traps on the lower-low tide in the morning for two reasons. One, crabs most actively forage on tideflats during an overnight high tide, and two, the lower-low tide gives us more time to retrieve traps and record which organisms are inside. We set the traps from the bait-testing experiment in a channel, and collected those first. Five traps in, we caught our very first European green crab, and we were pretty darn excited! Several traps later – another! Both green crabs were caught in traps where we used mackerel for bait. In fact, our traps with cat food caught almost nothing at all! In addition to the two green crabs, the mackerel traps caught sculpins, sticklebacks and native crabs, similar to what our volunteers see in their traps.
However, those two green crabs were the only ones we would see in traps that day. We were surprised that the other trap array we set out nearby, the one that was retesting the former sampling site, came up with very few crabs overall! The two green crabs we did catch were adults, likely arriving in Willapa Bay last year. Though we used minnow traps as well as Fukui traps, the latter of which targets smaller crabs, we didn't catch any young-of-the-year green crabs. This was honestly a bit perplexing!
Back off the mud for coffee, eggs, hashbrowns (Sean had pigs in a blanket), and then an epic clean up to prepare the traps to move to a new site. Even though the traps are coming out of mud and will only get muddy on the next deployment, cleaning them is important when moving them from site to site to avoid bringing hitchhiker organisms, especially, for instance, if there were any Spartina seeds in the mud on our boots.
The drive up to Tokeland, at the very top of Willapa, took about 2 hours and was the only time we saw the sun on our trip. The coast is known for being a rainy place, even in August, and it did not disappoint in that regard. While we heard there was a heatwave in Seattle, we bundled up against the misty mornings.
At Tokeland, on the higher-low tide in the evening, we set up the two trapping arrays in a fashion similar to Stackpole, targeting a marsh where Sean had worked during his Ph.D. research. Since we got too few green crabs at Stackpole to really consider it a good test of the bait type, we hoped, in a sort of ironic way, that we would catch more at Tokeland, and took it as a good sign that we almost immediately found a green crab molt in the wrack, whereas we hadn't seen any at the other sites. Patting ourselves on the back for completing our last trap set, we took the brief opportunity when the sun tried to come out during sunset to watch the returning tide and take a well-deserved break.
Highlights: I did a face-plant in the mud, but Sean didn't see it because he was loading a trap. I said nothing and quietly cleaned myself off before Sean could snap a photo. Did it really happen? Who can say?
-Emily Grason
Return to News page.
Return to Crab Team home page.
Follow @WAGreenCrab