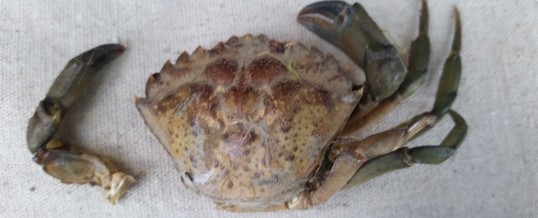 August 22, 2019
Crab Team volunteers in Drayton Harbor, just south of the border with Canada, found the shell of an invasive European green crab while walking the beach this past Saturday. The detection is the furthest northward along Washington shorelines the invasive species has been confirmed.
Margaret Santamaria and Margarette Grant are part of the Crab Team crew at a monitoring site on California Creek. They made the discovery while they were conducting a survey nearby for another citizen science project, COASST, for which the  protocol involves walking along the beach and visually scanning for dead seabirds. While doing so, their keen crab search image zeroed in on the shell of a European green crab that was mixed into the seaweed wrack washed up on the beach.
The crab was a 50 mm male, and from the state of the crab shell, it was difficult to determine if the shell was a molt (leaving behind a live crab), or a crab that had died or been predated upon. Regardless, the crab was likely in its second year, and provides evidence that more could be living nearby. The Crab Team early detection monitoring site has been trapping for green crab in California Creek since 2017, but no detections have been made thus far. More than a decade ago, an unconfirmed report of a green crab was made just across the border in Boundary Bay, but follow up trapping did not yield any evidence that green crab were present in that area.
With the support of more than 250 monitors, the Crab Team early detection monitoring network covers a lot more ground than would otherwise be possible. Yet, even the 55 early detection sites that span Washington's portion of the Salish Sea can only cover small a fraction of the habitat green crab could inhabit, so more eyes on the beach are critical to making sure green crab are detected while they are still very rare. Working with 250 monitors means there are 250 more people who can look for green crab even when they aren't actively conducting Crab Team surveys – a strength of working with volunteers, agencies, and tribes. Many, if not most, of the volunteers who participate in Crab Team also take part in other citizen science and beach stewardship activities like COASST, meaning they spend time looking closely at the beach and are primed to notice green crab if they are present. In particular, Crab Team participants, through their monthly sampling, become very experienced at distinguishing green crab from similar-looking native crabs. However, anyone who spends time near the muddy beaches, pocket estuaries and salt marshes that green crab favor, can help be on the lookout. Read more about how.
–Emily Grason
Header photo credit: M. Santamaria