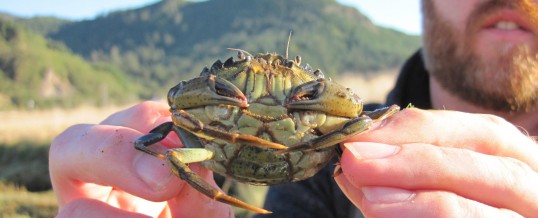 Header image courtesy of Zach Moore/USFWS
October 25, 2017
At the end of August, Crab Team received an email on our "tip line" from a beachwalker who had spotted a European green crab near Hobuck Beach in Makah Bay. The photograph submitted enabled us to immediately confirm the sighting, which was a new record for that area. The crab was located on Makah tribal land, and the Makah subsequently undertook a rapid assessment trapping effort to determine the extent of any green crab population in the Wa'atch and Tsoo-Yess river systems. Crab Team's core work is conducted on Salish Sea shorelines, but we were glad to work with WDFW to provide support for the Makah effort to protect against European green crab.
Below is a summary of the tribe's assessment trapping effort written by Marine Ecologist with the Makah, Adrianne Akmajian, who led the project – reposted here with permission:
Trapping results
On October 4th – 6th, the Makah Fisheries Management Department led an effort to detect invasive European green crab (Carcinus maenas) in the Wa'atch and Tsoo-Yess rivers. This effort was organized after a confirmed report of the invasive crab was reported to the Makah Tribe by Washington Sea Grant (WSG) Crab Team and Washington Department of Fish and Wildlife (WDFW) Aquatic Invasive Species (AIS) Program. In late August, a member of the public found and photographed a European green crab in the intertidal near the Wa'atch River mouth and reported the sighting to the WSG Crab Team. After this initial report, staff from the Fisheries Department conversed with experts from the WSG Crab Team, WDFW AIS Program, and US Fish and Wildlife Service (USFWS) AIS Program to get advice on how to respond.
Based on guidance from these agencies, the Fisheries Department decided that a rapid effort to set traps for the invasive crabs would be crucial to begin to assess the extent of crab infestation on the Makah Reservation. WSG Crab Team assisted the Fisheries Department in selecting locations of where to set traps for the crabs using aerial imagery of the Wa'atch and Tsoo-Yess river valleys to look for the green crab's preferred habitat – side channels off the main river with soft mud bottoms, undercut banks, and salt water exposure. A date for the initial trapping effort was set, and traps, trapping gear, and bait were provided to the Tribe by WDFW and delivered to the Fisheries Office by a staff member from USFWS. Over this three-day effort, a total of 13 staff from the Fisheries Department as well as one staff member from USFWS and a volunteer of Dungeness National Wildlife Refuge assisted with this trapping effort.
On October 4th, a total of 79 traps (a mix of minnow traps and Fukui traps) were set in the Wa'atch River between Wa'atch Point and Second Bridge (73 traps) and at the mouth of the Tsoo-Yess River (6 traps). Traps were checked on the 5th and 6th, native species were released, and green crabs were retained for euthanasia. All green crab were photographed and data was collected on their size, sex, and condition. In total, we captured 34 European green crabs, 22 males and 12 females, found both in the Wa'atch and Tsoo-Yess rivers. Crabs ranged in size approximately 1 – 3 inches, indicating that the crabs were most likely from the 2016 and 2017 brood classes and that the larger individuals could reproduce.
– Adrianne Akmajian
———————-
Staff with the Makah are planning to conduct aggressive trapping for green crabs in 2018, an effort that will likely be similar to what WDFW and USFWS have conducted at Dungeness Spit, and will address both the coastal habitats as well as those in Neah Bay, which is in the Strait of Juan de Fuca. They are in the process of acquiring funding and working out logistics of this plan, and will be seeking volunteers to help. If you are interested in supporting this effort, contact Adrianne Akmajian, Marine Ecologist with the Makah. Note: this is a separate volunteer opportunity from participation in Crab Team.
For more information on how you can participate in WSG Crab Team elsewhere along inland shorelines, visit our Get Involved page. If you are keen to look for European green crabs as you stroll your favorite beach, Thank you! Please be aware of and respect all property boundaries, and read up on "What to do if you find a European green crab"