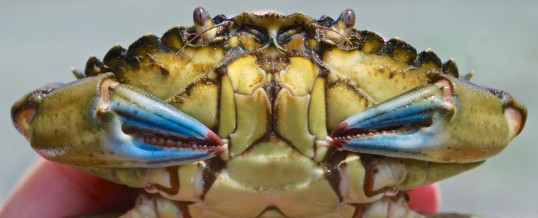 June 29, 2018
The first half of the 2018 WSG Crab Team monitoring season is coming to a close, and with that comes a status update on European green crab in Washington's Salish Sea. Since April, live green crab or molts have been detected at five sites, two of which are new detection sites:
One male green crab (57.5 mm carapace width) was captured during a

follow-up assessment at Lagoon Point

on Whidbey Island in June.

One male green crab (55 mm carapace width) was captured by Crab Team volunteers during regular monthly monitoring at Dungeness Landing on June 15. This site is in close proximity to Dungeness Spit, where US Fish and Wildlife Service (USFWS), in collaboration with Crab Team, first detected green crab in 2017. USFWS staff and volunteers trapped and removed a total of 96 green crab in 2017.

So far, 49 green crab have been captured at Dungeness Spit this year, as a part of USFWS's extensive, regular removal trapping efforts. Over the last 12 weeks, USFWS has mounted an effort of nearly 1,500 trap-days. On average, the catch per unit effort, a standardized measure of the rate at which crabs are captured accounting for how many traps were set, is about 3 crabs for every 100 traps. This is still fairly low, but slightly higher than last year's 2.5 crabs for every 100 traps.

Two male green crab (61 mm and 65 mm carapace width) were captured at Westcott Bay

(San Juan Island) on June 26, during a workshop that Crab Team held with management staff  from Department of Fisheries and Oceans Canada and Washington Department of Fish & Wildlife. This was the site of the very first European green crab detection in inland Washington in 2016, but despite continued monitoring, no green crab had been detected in Westcott Bay since that time. Details on that workshop will follow in a blog post soon.

One green crab molt was found in Fidalgo Bay near March Point Road on June 28, though no green crab have been detected at the three regular Crab Team Fidalgo Bay monitoring sites in the past two years.
Though outside the Salish Sea, ongoing trapping efforts in Makah Bay have captured 510 green crab so far this year! Crab Team staff will be traveling to the Makah Reservation in mid-July to assist with the Tribe's trapping and removal efforts.
What do we make of all this? Well, size matters, and with green crab we can estimate their age based on how large they are. Some of the crabs being found at Makah Bay are small, slightly over an inch across the back shell. These are also the sites where the largest numbers of green crab are being captured. Crabs of this size likely settled during late summer of 2017, but we can't tell if these crabs were the result of reproduction occurring at these sites, or of larvae getting washed in from another seeding population on the coast. At all the other sites, crabs are adult sized, at least 39mm and up to 85mm! These crabs are two or three years old at least, aligning with the observation that, based on warm temperatures, 2015 and 2016 were especially good years for green crab to get moved around as larvae from established populations on the coast of British Columbia or the US.
We perhaps should not be surprised to find green crab in some of these locations, particularly the places where green crab have been spotted in previous years. But the fact that we are seeing green crab at new sites is certainly concerning, as is their persistence at places like Dungeness Spit. Because green crab don't travel very far on a daily basis, the crabs that are being trapped at these sites this year have likely been there for a year or more, but are only now being captured despite previous trapping. This underscores a challenge of green crab management: sustained effort at a site is critical not only to detecting green crab in the first place, but also to long term management success. It is important to do as much as we can now to avoid allowing populations to increase dramatically. Thankfully, even as our concern about the spread of this globally invasive crab grows, so does the community of agencies, tribes, volunteers and beachgoers that are trained, on the lookout, and working hard to protect Washington's shorelines from European green crab. Thank you to all of you out there in the mud trapping or searching for green crab!
– Emily Grason & Kelly Martin
Learn how to help look for invasive European green crab, and what to do if you think you've found one.