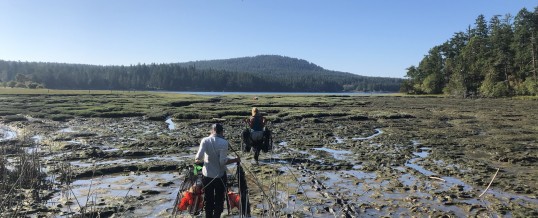 September 6th, 2019
Last week, Crab Team Program Manager, Emily Grason, and Program Assistant, Kelly Martin, conducted a trapping assessment on San Juan Island with Chelsey Buffington and Roy Clark from the Washington Department of Fish and Wildlife (WDFW). After three days and more than 330 trap sets, one male European green crab (64 mm) was found in Westcott Bay. 
Westcott Bay, on the northern end of San Juan Island, is the location of the very first green crab detection in Washington's Salish Sea in 2016. Since then, over the course of monthly monitoring by Crab Team volunteers and three trapping assessments conducted by Crab Team and WDFW staff, five additional live green crabs have been trapped at this site (including the male trapped last week) and one molt was found. All of these green crabs have been captured within the same channel at Westcott Bay that is monitored as part of the Crab Team network. Despite heavily trapping several nearby sites with suitable habitats, including Henry Island, no other locations have yielded any green crab detections. 
While finding any number of green crabs is cause for some concern, the fact that only one green crab was detected during so many trap sets increases our confidence that these invasive crabs are not abundant in the area. However, the continued capture of a small number of green crab suggests that there may have been multiple arrival events of larvae at Westcott Bay. Until we can learn more about where the crabs are coming from, via genetic studies and oceanographic modeling, continued trapping will be necessary to reduce the chances of establishment in the marsh.
Setting 330 traps over three days is a massive undertaking that could not be achieved without support from local volunteers and organizations. Last week, we were joined by Tanja Williamson and Erin Holcomb from San Juan County Land Bank, Dr. Frances Robertson from the San Juan County Marine Resources Committee, and, volunteer Mark Donohue, who captains the Westcott Bay Crab Team monitoring site. Both the Land Bank and the San Juan Preservation Trust, as well as the Roche Harbor Resort and several local land owners, were extremely helpful in providing access to trapping sites. We are incredibly grateful for all their support in the effort to protect local shorelines.
–Emily Grason and Kelly Martin
Header Image: Frances Robertson and Kelly Martin head out to the marsh at Westcott Bay to set traps. Photo: Emily Grason