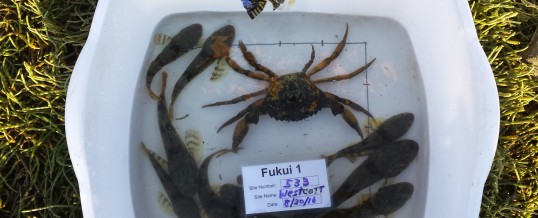 September 2, 2016
Crab Team volunteers discovered the first confirmed sighting of a European green crab along inland Washington shorelines while conducting their regular monthly monitoring earlier this week.
Volunteers at Westcott Bay, on San Juan Island, discovered the large adult male in one of their Fukui traps (the larger of the two types we use). Because the crab was an adult, it is believed that it washed in to the area as a larva in 2015 or 2014, possibly from the nearby Sooke Inlet population, or even as far as California.
The Westcott Bay volunteers happened to be accompanied by Sylvia Yamada, an OSU researcher who studies green crabs and was able to verify the sighting.
You can read more in the WSG press release about Crab Team working with WDFW to develop a response plan. Stay tuned and we will keep you up to date on the latest.
-Emily Grason, Project Coordinator
There's more! Read about the rapid assessment trapping effort in response to this sighting.
Return to News page.
Return to Crab Team home page.
Follow @WAGreenCrab