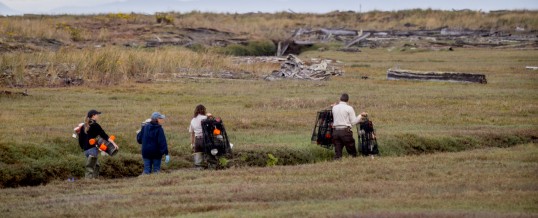 May 13, 2019
The return of spring means trapping season for green crab is now under way. In April, WSG Crab Team resumed early detection trapping across the monitoring network along Washington's inland shorelines. We're pleased to share that Crab Team has received funding to continue this work for the next biennium (July 2019 – June 2021) in the Washington State budget. To date, the program was funded primarily through the Puget Sound Marine and Nearshore Grant Program (US Environmental Protection Agency funding through WDFW), which will not be available to us in the future. Pursuing a more stable funding base has been top of mind for the past year, and doing so will enable us to focus more time and energy on green crab themselves. We are extremely grateful to those who supported efforts to secure this funding, particularly the Jamestown S'Klallam Tribe, Lower Elwha Klallam Tribe, Makah Tribe, and Puget Sound Partnership.
Several years into the project, Crab Team has grown to more than 220 volunteers and 56 early detection sites monitored monthly April through September, but those are certainly not the only boots in the mud. In addition, a number of additional early detection and crab removal trapping efforts in the region are also again hard at work. We wanted to summarize the work being done by all of the groups contributing to the green crab management efforts and to provide an update of status of European green crab in the Salish Sea since the start of the season.
Sequim Bay
Neil Harrington, biologist with the Jamestown S'Klallam Tribe, captured a single 80mm male green crab on May 7th in the south end of Sequim Bay. To supplement monitoring at two Crab Team sites in Sequim Bay, Harrington conducts additional trapping in other areas that are difficult to access. So far this year, he's set about 150 traps in Sequim Bay, and this is the second crab he's captured here in the past three years. The first was trapped at Jimmycomelately Creek in August 2017, to the west of the recent capture site where there is now a regular Crab Team monitoring site. The recent crab captured had a very red underside and a few damaged limbs, indicating it was not in great condition, but the large size of the crab indicates it was more than two years old, and had likely been in the area since it grew out of its larval stage. Harrington will continue to trap the area intensively over the coming weeks, with help from WDFW, to try to detect and remove any potential holdouts.
Dungeness Spit
The dedicated staff and volunteers with US Fish and Wildlife Service resumed their weekly intensive trapping efforts at Dungeness Spit National Wildlife Refuge last month. The team there not only manages three Crab Team monitoring sites, which help keep tabs on numbers by collecting data consistently with all other Crab Team sites, they also set hundreds of additional traps each week with the goal of removing as many green crab as possible from the site. So far this year they have set more than 700 traps and removed 32 European green crab. The extensive efforts at the spit to collect data on green crab have also enabled us to start to identify patterns. One thing we've noticed is that this is the time of year that traps capture the most green crab. We hope that over the next months, the catch rates will drop again. None of the crabs captured so far this year are recent arrivals, which is good news.
Vancouver Island
Starting last year, Fisheries and Oceans Canada expanded their early detection monitoring on the BC side of the Salish Sea (read more about the collaboration between Crab Team and DFO for early detection monitoring). By targeting highly suitable habitats, they've been able to find a very small number of green crab in previously undetected locations, including Esquimalt Lagoon (in Vancouver) and Witty's Lagoon. This is similar to the pattern on the Washington side of the Salish Sea (with the exception of Dungeness Spit), where small numbers of crabs are being found in isolated locations.
Makah Bay
The Makah Fisheries Department has also resumed eradication trapping in Makah and Neah Bays, and have removed 76 green crab from the Wa'atch and Tsoo-Yess River estuaries (Makah Bay) in about 150 trap sets. No live crabs have been captured in Neah Bay, though several molts have been found there. The green crab there still appear to be more abundant than at any of the inland Washington sites. In addition, trappers are finding a number of molts, including very small ones, which indicate young green crab are at the site. This is not something we are seeing at sites inland. The group will continue to trap throughout the season, including testing alternative types of trap to more finely tune removal strategies. They are also looking for volunteers to help.
– Emily Grason
Header Photo: Crab Team and USFWS Staff and volunteers head out to trap at Graveyard Spit in 2017. Credit: UW College of the Environment