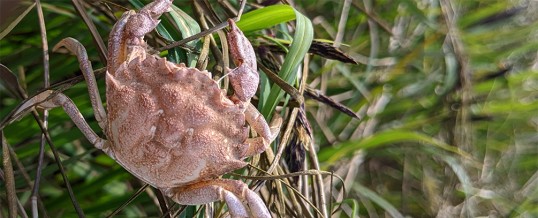 May 1, 2023
WSG and WSU Extension have teamed up to launch a new volunteer-based early detection program to complement the existing Crab Team monitoring network—introducing, Molt Search.
Building on Early Detection Success
Molt search builds on the hard work of Crab Team monitors who have been conducting early detection surveys since 2015. The network has found some of the first generations of green crabs to land on inland shorelines, including the first sighting in inland Washington in 2016 and 7 additional first detections of European green crab in new waterbodies in the Salish Sea. Over the years, Crab Team has grown to broadly support European green crab management needs in Washington through partnerships and advising with agencies, Tribes, and local trapping efforts and by conducting collaborative research to advance management and control objectives. The program now oversees a network of 56 early detection trapping sites along inland shorelines (plus 11 sites in coastal estuaries) that are surveyed by hundreds of volunteers, tribal staff, and agency partners. Monitors of these trapping sites are highly trained in identification of a wide variety of pocket estuary critters and they dedicate a significant amount of time to data collection and monitoring at their assigned sites across the region. 
With European green crab populations continuing to grow and spread statewide, an important next step to support management, which is led in Washington by the Department of Fish and Wildlife (WDFW), is creating opportunity for broader participation and potentially broader geographic coverage in early detection efforts along inland shorelines. Trapping, though a relatively sensitive way to detect green crab populations while they are small, is logistically and labor-intensive, meaning Crab Team and partners can't establish early detection sites in every single location where green crabs could arrive.
That's where Molt Search comes in—by looking for the exoskeletons that crabs shed as they grow, anyone walking a beach can help be on the lookout for signs that green crabs might be nearby. When European green crab first arrived in the coastal embayments of Washington in the late 1990's the very first reports were not of live crabs, but of molted shells. Recent increases in populations in the coastal estuaries are a crucial focus of population control for managers in Washington State. Across inland shorelines, however, green crabs remain much less abundant, more geographically concentrated, and have not yet been found further south than Admiralty Inlet. Early detection is still a priority in the majority of these locations. Therefore, Molt Search focuses specifically on early detection along Washington's inland shorelines, and the expansion of surveys through the program will help fill gaps in other management efforts.
Searching All Shorelines
Even with an inland focus, there are more than 2,000 miles of shorelines to cover along Washington's portion of the Salish Sea. With a streamlined and flexible beach survey protocol, Molt Search will substantially increase the number of "Eyes on the Beach," providing critical support to detection of green crabs before they establish large populations that would be difficult, or impossible, to control.
In recent years, beach surveys like these have been an informal early detection technique supported by managers providing identification resources and pathways for reporting green crabs if found. As one of the original reporting hubs for green crab reports, Crab Team and others have observed over the years that where green crabs are rare, the overwhelming number of public reports are of mistakenly identified native crab species. While we are always glad to reassure reporters that they have not found an invasive crab, this trend suggests that additional training may help beachgoers become more confident at distinguishing some of our green (or greenish) species of native crab  from the invasive European green crab. 
Molt Search aims to address these needs both by enabling volunteers to search much more of Puget Sound's shoreline than trapping alone could accomplish and by combining in-depth identification training and a systematic search protocol based on existing Crab Team "molt hunt" methods. Even surveys that do not detect green crabs are valuable, because they help managers prioritize regions where relatively less search effort has been focused. Volunteers will also be able to collect molt data that can offer insight into growth patterns of crustaceans that live nearby, like native Dungeness crab.
Want to Molt Search?
This spring, Crab Team and WSU are partnering with local organizations to launch the new Molt Search program through a series of trainings in each of the 12 Puget Sound counties, where they'll hone crab identification skills and introduce the survey methods. Trained participants will submit the results of their surveys of local shorelines through the MyCoast app or webpage, which is supported in Washington by the the Washington Department of Natural Resources. The Molt Search protocol is a natural fit for MyCoast, a free and easily accessible app with other reporting tools already in use by shoreline stewards that help us understand and track human impacts on shorelines.
To hop on board with Molt Search, check out the events calendar for a list of upcoming training workshops.
We're excited for the pilot season of this program, and hope you'll join us in the search.
See you on the beach!
– Staci McMahon
Header Image: A European green crab molt discovered by Crab Team Coastal Specialist Alex Stote.