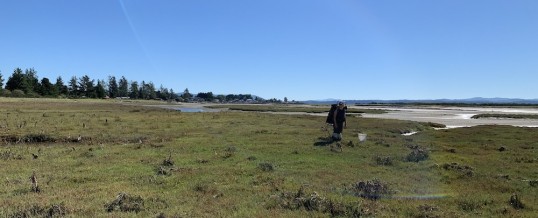 October 12, 2020
Hello WSG Crab Team enthusiasts! Now that the whirlwind of the trapping season is winding down, I'm excited to finally introduce myself to you all as the Crab Team Coastal Specialist. I began this role in late July, and while July might feel like years ago, this is still a relatively new position to WSG. In the few months since I began, I've been splitting my time between the "office" (which continues to be my kitchen) and the mud.
The core of this work is to assess invasive European green crab populations on the Washington Coast (check out our previous post here where Emily and I dive deeper into what that means). In practice, it involves building relationships with various coastal partners to coordinate and sustain our approaches to trapping, training monitors to trap our sentinel sites monthly, and getting knee-deep in the mud for intensive trapping assessments. As the summer tides shift to winter tides, I'll be spending less time outside and more time on things like data analysis, mapping, and planning for next year's field season, which will resume in early spring.
My background
While I'm new to this position, I've had the pleasure of working at WSG for the last two years: first as a student researcher while I was in graduate school, and most recently as a Shellfish Aquaculture Specialist. During those appointments I worked primarily on the Washington Coast Shellfish Aquaculture Study (WCSAS), where I served as the study's operations lead and as lead author on a science synthesis report focused largely on intertidal ecology in Willapa Bay and Grays Harbor. I'm excited that my new position allows me to continue working closely with partners with whom I have cultivated relationships through the WCSAS, while also affording me opportunities to forge new partnerships on the coast.
Prior to joining WSG full-time, I was a graduate student at the School of Marine and Environmental Affairs at the UW and the Program on Climate Change. My thesis examined the remediation potential of eastern oysters (AKA Virginica oysters, Crassostrea virginica), and my studies focused on the impacts of climate change on marine food systems. I served on the board of the Program on Climate Change where I participated in climate outreach events for audiences outside of the University of Washington.
Before landing in Washington State for graduate school at the UW, I spent stints of time commercial fishing in Alaska, sailing on research vessels, and leading backpacking trips. I'm originally from Boston where I spent my childhood tide pooling along rocky jetties and body surfing in the waves. I'm excited that my new role will bring me back to catching critters on the beach, albeit in a much more refined way than when I was a kid!
I feel grateful to have the opportunity to work with dedicated partners on the Washington coast including tribes, shellfish growers, and agency representatives, and to become a part of the close community that is the WSG Crab Team. If you have questions about our coastal monitoring efforts or our plans for the upcoming year, please feel free to get in touch with me directly. I can be reached via email when I'm not slogging around in the mud looking for crabs.
– Alex Stote
Header photo credit: Ron Coleman/WDFW