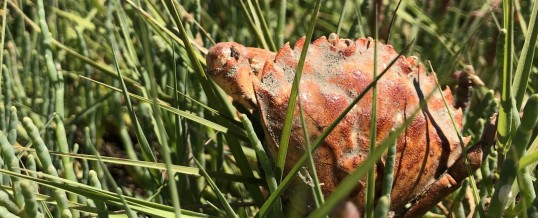 August 30, 2020
In 2016, when invasive European green crabs were first found on San Juan Island, media coverage left a lot of folks on Washington's coast scratching their heads. Why the sudden concern? After all, green crabs were first detected in Willapa Bay and Grays Harbor several decades ago, starting in 1998, and had mostly disappeared. Shellfish growers might see them on occasion, but they were no longer considered the looming threat perceived at the turn of the last millennium.
But in the last few years, growers have started finding more green crabs in their shellfish beds than they have ever encountered. In 2017, the Makah Tribe discovered a population of green crabs larger than any found along inland Washington shorelines at the mouths of the Wa'atch and Tsoo-Yess rivers. These observations have raised the alarm that Washington's coastal estuaries could be undergoing a "sea change," and called for renewed efforts to assess the status of green crab populations.
In response to this need, WSG is collaborating with Washington Department of Fish and Wildlife (WDFW) to co-lead an assessment of invasive European green crab populations on the Pacific coast over the next year.
Green crabs arrive in Washington
After green crab was first found in Willapa Bay and Grays Harbor in 1998 (read details in the FAQ), an annual bay-wide survey was initiated to characterize their abundance and distribution in those estuaries. Trapping continued in the form of assessments and surveys through 2001, but capture rates declined over that period, leading to an end in the survey program. Since then, monitoring data were collected from only a single site trapped once per year by Sylvia Yamada and Andrea Randall (Yamada 2020). These data offer a small but extremely valuable window to green crab population patterns. From their arrival until 2015, green crabs followed a "boom-bust" cycle in Willapa Bay– appearing as periodic 'outbreaks' following warm years, but dropping below detectable numbers in cooler years. However, the data in recent years suggest that green crab numbers have skyrocketed, exceeding observations from from the earliest days of concern over the invasion, and echoing the alarm sounded by tribes and shellfish growers.
What Changed on Washington's Coast?
It's possible that changing ocean conditions have been supporting the ongoing spread of green crabs on the West Coast, including their dramatic re-emergence in Washington's coastal estuaries, and to understand why, it helps to first know why we saw a 'boom-bust' pattern in the past. Boom years appear to have resulted when larvae washed into Willapa from California, and Oregon on strong, warm, northward currents often associated with strong El Nino (ENSO) events (Yamada et al. 2015), and, more recently, The Blob. So why didn't they stick around? Ocean models simulating the spread of waterborne crab larvae suggest that, because Willapa is a relatively shallow estuary, the vast majority of larvae produced by crabs living in the bay typically washes out to sea and it doesn't contribute to building the local population (Banas et al. 2009). This is especially true for larvae released from crabs near the mouth of the bay, where most crabs were concentrated during the initial monitoring years. Green crabs might arrive on favorable years, survive for a time in places with a lot of suitable habitat, like the marshes of Willapa Bay and Grays Harbor, but fail to sustain populations locally.
In recent years, however, overall warmer ocean conditions, especially those associated with successive years of record-breaking ENSO events, might have shifted conditions just enough to change the game for green crab along the West Coast. Monitoring by Sylvia Yamada has documented a shift from boom-bust to what appears to be a more established population in Oregon estuaries, meaning Washington coasts may be more frequently awash in green crab larvae than previous decades (Yamada 2020). Incidentally, these same conditions are likely related to at least some of the dispersal of green crabs into the Salish Sea as well (Yamada 2017)
Reassessing the Status of Green Crabs
Even though limited in scope and detail, recent observations and evidence of green crab in coastal estuaries were sufficient to raise the alarm and highlight the urgent need to better understand the status of green crab populations. Collectively, managers are beginning to assemble a picture of what is happening along Washington's coastlines, but remain hamstrung by insufficient information. To address this critical data gap, WSG is working with WDFW to develop and undertake a coast-wide assessment over the next year. The goal will be to provide a relatively comprehensive investigation of where green crabs are found, how abundant they are, and how those factors change seasonally and annually.
The overarching goal for the next year is to gather as much information as possible about where green crab populations are concentrated on the coast. That information is critical to figuring out what the next steps for management will be, how to best prioritize actions to protect habitats, resources, and ecosystems. Specifically, WSG is employing two types of trapping efforts in an attempt to both cover as much ground as possible across hundreds of miles of shoreline, and to be systematic in our investigation of seasonal and annual population changes.
One type of trapping will occur at "sentinel sites." These are similar to sites monitored in the Crab Team network – they are dedicated trapping locations that will be monitored according to a consistent protocol monthly. WSG is teaming up with coastal partners including Tribes and shellfish growers to conduct the monitoring. Just like Crab Team sites, monitors will collect data on everything captured in small number of traps, whether or not green crabs are detected, to get a snapshot of the ecological community at those sites and learn how it might be impacted by green crabs. This could be considered the "fewer traps – lots of data" approach. WSG was able to establish the first five sentinel sites in August to collect a few months of pilot data before the cooler months arrive. Over the next year, the goal is to monitor 10 sites for the full season of April through September.
Together with WDFW, WSG will also conduct assessment trapping. In comparison with sentinel sites, assessments are a the "lots of traps – less data" approach, with the goal of covering as much ground as possible, efficiently. These efforts will hopefully identify any hot spots and broad spatial patterns of abundance. Assessment trapping involves sporadic, multi-day intensive efforts, and may occur in locations that are only trapped once.
Everything about the coastal efforts feels big, there is a lot of ground to cover, and numbers of green crabs being found are greater than seen anywhere inland. Appropriately, the efforts will also be enormously collaborative, and so Crab Team is growing in order to support them. The next post will introduce the muscle behind WSG's coastal efforts, Alex Stote, who is filling the new position of Crab Team Coastal Specialist.
-Alex Stote and Emily Grason
Header photo credit: Emily Grason/WSG