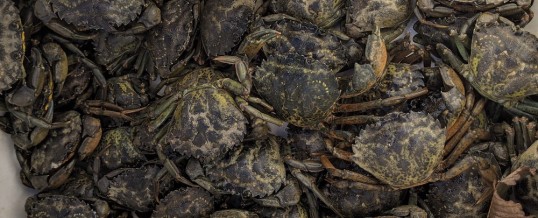 December 16, 2020
As we hang up our hip boots to dry until next season (right next to the holiday lights, of course), it's a good time to stop and reflect on what we were able to accomplish in a fleeting field season that was truly unlike any before it. In addition to our continued early detection monitoring in the Salish Sea, we had ambitious goals to design and launch a broad geographic assessment of European green crab populations on the Washington coast. Though we haven't yet been able to hit every site on our wish list, we've already made substantial progress towards our goals in three short months with the help of almost a dozen coastal partners. Major highlights from this year include the piloting of five sentinel sites that will continue as monthly monitoring locations for the full 2021 field season and completing multi-day assessments at 21 locations throughout Willapa Bay and Grays Harbor in partnership with the Washington Department of Fish and Wildlife (WDFW). These efforts resulted in a total of 915 trap sets and 1,762 green crabs removed in Willapa Bay, Grays Harbor and Makah Bay from August through October. Additional trapping by the Makah Tribe and Pacific County Weed Management has removed nearly 1,500 more crabs so far this year. 
Where Are Green Crabs Along the Coast?
On the Washington coast, summer 2020 field efforts were concentrated in areas where reported sightings and captures of European green crab have been increasing: Willapa Bay, Grays Harbor, and Makah Bay, where Makah Fisheries Management has been continually trapping and removing green crabs since 2017. The biggest takeaways of our monitoring and assessment efforts from this season were that green crabs were present everywhere that we trapped and they are more abundant in these estuaries than they have ever been before.
Although it's challenging to draw firm conclusions from our limited data set, we do notice initial patterns when analyzing the data that we collected. One immediate observation is that green crabs are more abundant at the mouths of the estuaries of Willapa Bay and Grays Harbor, indicated by the darker red circles at sampled sites, a finding that is consistent with previous trapping efforts from the early 2000s. This year, in Grays Harbor, the average catch rate was greatest at Ocean Shores (an average of roughly 562 crabs caught for every 100 traps set) and, among Willapa Bay sites, Stackpole and Tokeland had the most crabs (an average of 294 and 244 crabs per 100 traps, respectively). You'll notice from the map that these locations are situated at the mouths of the bays. In general, we see that green crab abundance decreases when moving eastward and southward within each estuary, another finding that is consistent with previous years.
Nevertheless, there are two salient differences in observations from this year relative to previous assessment efforts two decades ago. First, green crabs were trapped in southern reaches of Willapa Bay (including Greenhead Slough and Omeara Point), where they had not been previously recorded. This is of note because modeling evidence has suggested that the circulation patterns in Willapa would favor retention of larvae produced in this region of the bay (Banas et al. 2009), increasing the chances for rapid population growth and establishment in the bay as a whole. Second, the overall abundance of green crabs in 2020 remains much higher than any time in the past, including during the previous assessment years. Taken together, these are sobering findings, indicating that the status of green crabs on coast is much more concerning than it was in the early 2000's.
The Work Continues
While it's rewarding to uncover patterns this early in the assessment, we are eager to continue to learn about the abundance and distribution of European green crabs on the Washington coast, especially in areas on the coast that we have not yet sampled. A sound understanding of where green crabs are, how many there are, and how they move around the shorelines is a critical component of effective control. So, we will be busy over the next few months planning the launch of additional sentinel sites. We will also continue our assessment efforts to include trapping locations outside of Willapa Bay, Grays Harbor and Makah Bay to get a better idea of what's happening adjacent to, and between, these estuaries. Our expanded trapping in 2021 will allow us to collect inter-annual observations and examine seasonal variability in green crab populations, which we were unable to do this year. Building upon the 2020 efforts next year will give us a more complete picture of green crab spread and population density over a full sampling season and over a wider geographic range on the Washington Coast.
The work that we've done and the work that we will continue to do to protect Washington's shorelines would not be possible without the contributions of coastal partners. We're eager to grow these existing partnerships as well as to expand our network in the coming year. A special thanks to all those who weathered the 2020 field season with us (and made it all the more enjoyable!): Brady's Oysters, Lytle Seafoods, the Makah Tribe, the Quinault Indian Nation, the Shoalwater Bay Indian Tribe, Taylor Shellfish, the Washington Department of Fish and Wildlife, Willapa-Grays Harbor Oyster Growers Association, and the Willapa National Wildlife Refuge.
– Alex Stote
Header photo: A bucket of European green crabs caught in Willapa Bay in early fall 2020. Credit: Alex Stote/WSG