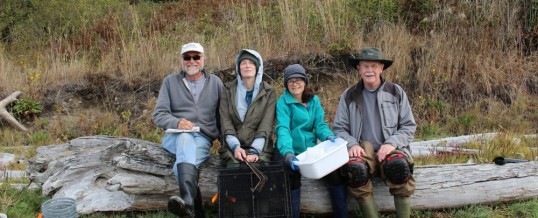 March 13, 2023
Crab Team has come a long way since a handful of intrepid early-adopter volunteers put their boots in the mud for our pilot season in August 2015. Since that time, the network has:
As a citizen science model, Crab Team thrives because of the contributed efforts of community volunteers and partner staff from agencies and tribes, a diverse group united by a shared commitment to provide critical information for the protection of Washington's shorelines from invasive European green crab. With the growth of the program and the family of crabbers distributed across the state, Crab Team has sought ways to carry forward the values of generosity and excellence that program participants have demonstrated since day one. 
Over the past year, monitors and Crab Team staff have been working together to co-develop a Crabber's Code, a set of community agreements that celebrates the commitments monitors make to each other as co-participants. We're pleased to share the outcome of this work, a living document reflecting the shared values of Crab Team staff and monitors. 
History
The current version of the code was developed through workshop sessions at training events in Spring of 2022. Returning participants that year were invited to collaboratively evaluate a list of possible agreements, ranking their favorites, wordsmithing ones that needed a tweak, and suggesting veto of those that just didn't fit. These were experienced crabbers, some of whom had been helping build Crab Team since those pilot days in 2015! One example of a suggested agreement that didn't make the cut: "I hereby solemnly promise that I will, within 60 days of joining Crab Team, get the logo tattooed onto my person." We can't imagine why! 
Through this process, monitors discussed with each other values they shared, as well as the community they wanted to be a part of. They channeled these discussions into feedback on the code. Since then, Crab Team staff has been working to collate that feedback and build it into the version we are sharing today.
Future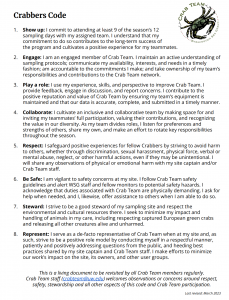 The Crabber's Code will be one way that new program participants are welcomed to the network. It will become part of the handbook and a resource orienting all crabbers to their belonging and responsibility to the Crab Team community. 
While this version is the result of a great deal of consideration, we see it as Crabber's Code 1.0. It is the first iteration of a living document, periodically revisited to reflect changing needs and values of our crabby community. In that spirit, we'll always invite feedback and thoughts from Crab Team participants – you can either reach out to us directly at crabteam@uw.edu, or provide thoughts anonymously via this feedback form.
– Emily Grason & all of us at Crab Team HQ
Header Image: Crabbers from the kick off team at Penn Cove in 2015. Most of the team members featured are still in the mud every month with Crab Team!