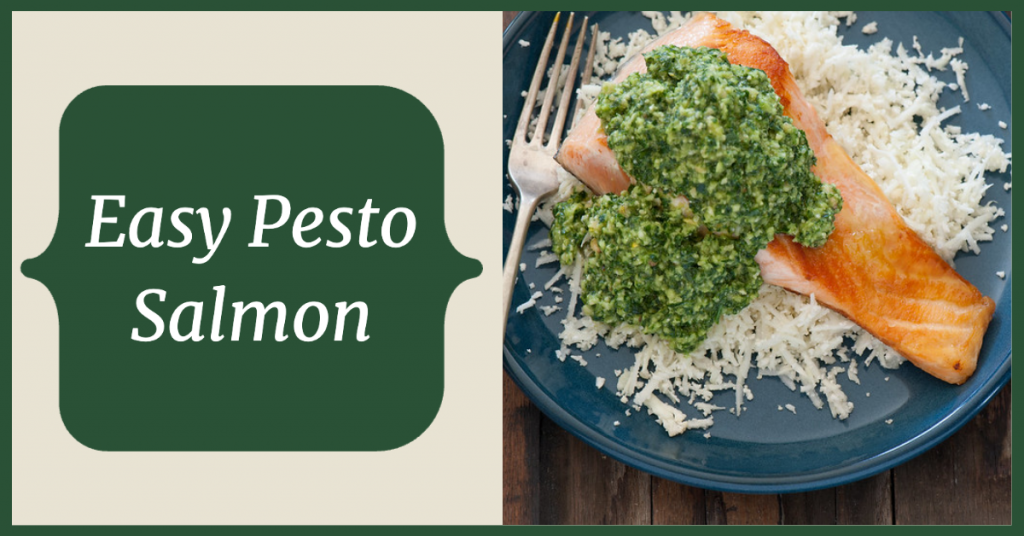 August 25, 2023
By Katalin Plummer, WSG Graduate Science Communications Fellow
We're back with another recipe this week for our Discover West Coast Seafood series! With the heat that we're experiencing, we know it's hard to turn on the oven… but it's worth it for this super easy pesto salmon recipe. Besides, the cook time is only 10–12 minutes, which is so worth it for fresh, summery flavors. We thank both Sea to Shore Seafood Co. and Sustainable Connections for this simple but delicious recipe.
Remember that our partners at the Washington Department of Fish & Wildlife are working hard to make sure that salmon stays a sustainable seafood option for years to come. And buy local when you can—it also helps support our Washington economy. 
For more sustainable seafood recipes and information, follow along with our Discover West Coast Seafood series!
Serves 2
Ingredients
2 6-ounce wild caught salmon filets (fresh or defrosted)
1/3 cup basil pesto (homemade or storebought)
Instructions
Preheat oven to 375°F.
Line a baking sheet with parchment paper.
Place salmon filets on baking sheet skin side down.
Divide the pesto evenly among filets and spread evenly to fully coat each filet.
Bake the salmon for 10–12 minutes, depending on the thickness of filets.
Serve.
###
Washington Sea Grant, based at the University of Washington, helps people and marine life thrive through research, technical expertise and education supporting the responsible use and conservation of coastal ecosystems. The National Sea Grant College Program is part of the National Oceanic and Atmospheric Administration, U.S. Department of Commerce.
Join the conversation: @WASeaGrant and Facebook.com/WaSeaGrant.