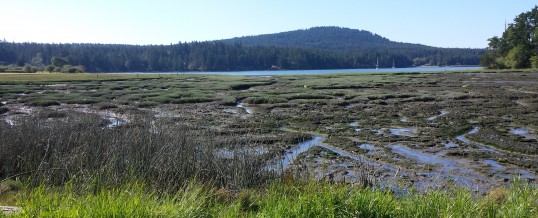 September 12, 2016
Emily here, writing from beautiful Friday Harbor Labs after our first full field day on San Juan Island as part of our rapid response effort. Following the Westcott Bay Crab Team volunteer capture of an adult male green crab, our plan of action was to devote a few days to intensively trapping the marsh where the crab was caught, as well as several sites in the surrounding area to get a better idea of how many more green crabs there are in this area, if any, and whether they are found at other sites.
Crab Team staff including Jeff, Sean, and myself are joined by Roy Clark, who works for WDFW and brought a zodiac to help us get traps to hard to access sites. Sunday, after arriving, Sean and I cut 60 pounds of mackerel (donated by WDFW) to prep for two days and approximately 100 traps. We set up on the FHL docks, much to the interest of some very curious high school students, who peppered us with astute questions about the threat posed by the invasive crab.
Early this morning, we packed up our gear and headed north to set traps at our first sites. Sean and Roy took the boat, carefully loaded with traps and bait, from Roche Harbor over to Henry Island, where the San Juan Preservation Trust graciously gave us permission to look for green crabs. The marsh on Henry Island is large and extensive with undercut banks. It's a habitat we previously noted for being good green crab habitat, but hadn't been able to sample. However, with such close proximity to the recently-captured European green crab, it's now critical to see if others are also established there. Sean and Roy set nearly four dozen Fukui and 10 minnow traps, before heading to Garrison Bay to scout a few potential sites for tomorrow. When they returned to Roche Harbor and pulled the boat out, they also set a few traps at the lagoon next to the boat ramp. Roche Harbor Resort has been extremely helpful facilitating access to sites and logistics of sampling during this process!
While Roy and Sean were off galavanting around, Jeff and I had serious work to do in the marsh at Westcott Bay. Because this is the site where the single crab was found, we also wanted to repeat trapping, but expand the network of traps beyond the area that is covered each month in regular monitoring. Crab Team volunteers set three Fukui and three minnow traps each month along a 50 meter stretch of the channel. We expanded that to 26 Fukui and 10 minnow traps, stretching up some of the side channels. If there are more crabs lurking in the marsh, we wanted to lure them out with yummy mackerel! Jeff also wasted no time in finding a 69 mm green crab molt. We aren't sure if this came from the crab that has been captured at this site, or is evidence that there is another crab in the marsh.
Regardless, this is the first molt that has been confirmed for this species in Washington's inland shorelines and supports our belief that the crab the volunteers previously captured has been living there for at least a little while. Jeff and I also headed up to a small lagoon at Davison head, just north of Roche Harbor and set a handful of Fukui traps. We noted a lot of small native shore crabs scrabbling around in the water, and are sure to see them when we retrieve traps tomorrow!
Tomorrow morning, we head back to our respective sites, to check the [90 or so] traps we set today. All native critters will be released, and we hope to get few, if any, invasive European green crabs. Then we will redeploy some traps at the same sites, but will also send traps to new sites we haven't yet been able to get to in the Westcott Bay area. We are casting a wider net to look for other places the crab might be hiding out nearby.
Also tomorrow, we will be giving a public presentation about the green crab find on San Juan, and more information on the next steps and how people on San Juan Island can help protect the shorelines. We look forward to meeting many islanders who are as interested as we are in ensuring the European green crab doesn't find a foothold in local waters!
There's more! Read about Day 2 and our wrap up of assessment trapping.
Return to News page.
Return to Crab Team home page.
Follow @WAGreenCrab