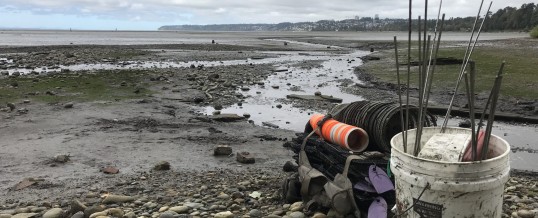 July 2, 2020
Removal of European green crab in Drayton Harbor is now underway, thanks to the collaborative efforts of WSG, Washington Department of Fish and Wildlife (WDFW), the Northwest Straits Commission (NWSC) and many other partners and stakeholders. This is the first of two posts on efforts to date.
Starting last fall, following the detection of green crabs in Drayton Harbor, in Blaine, first as molts, then in two assessment trapping efforts, WSG and WDFW began developing a collaborative management effort focused on this new "hotspot" of green crabs in Washington's portion of the Salish Sea. The goal of management is simple: remove as many European green crabs from Drayton Harbor as possible, and so reduce the chance of population growth and harmful impacts to ecological, economic, and cultural resources. Developing a management effort to accomplish this in just a few months during a global pandemic, however, has been anything but simple. In contrast with other green crab removal trapping efforts in the region – Dungeness Spit, Lummi Bay, and Makah Bay – the shoreline of Drayton is more extensive and largely privately owned. There also was no dedicated workforce to plan, oversee, and carry out trapping. Putting together the logistics to launch a large scale management effort in short order was always going to be a "big lift" – even before COVID came along this winter, triggering hiring freezes and field work shutdowns. But the green crabs weren't going to hold off growing, eating, and reproducing, raising concerns about what could happen without immediate action.
In spite of these challenges, and much to everyone's relief, the first traps aimed solely at removing European green crabs from Drayton Harbor finally went into the water in late May, and not a moment too soon. Already, the first month of trapping has demonstrated how critical a dedicated management effort will be for the protection of shorelines in this region.
Building the Drayton Team
Because the management landscape in Drayton has many players, any effort to control green crabs there will rely on extensive collaboration and cooperation. But the challenge of complexity has also afforded a great opportunity to draw on the Blaine community's dedication to the protection of this beautiful and productive shoreline. Planning started last winter with a series of meetings (first in person, then continuing on Zoom) convening as many groups interested in contributing to green crab management as possible. WDFW has management jurisdiction of green crabs on non-tribal lands in Washington, but carrying out an effective control effort also requires dedicated local support and capacity to sustain the efforts.
Under the leadership of WDFW, and with the support of WSG, the management of green crab in Drayton is also greatly facilitated by a local coordinator. Allie Simpson, with the NWSC, fills this role by working with other management entities, community members, and stakeholders in the area, to build as much momentum for the trapping work as possible. Together, WSG, WDFW and NWSC have spearheaded the development and execution of a management plan, laying out protocols for trapping and managing logistics. In addition, two full time WDFW technicians, Lindsey Parker and April Fleming, are dedicated solely to conducting trapping in Drayton, and will undoubtedly log many miles in the mud this summer!
Into the Mud and Beyond
Getting the team on board was one hurdle, getting into the mud was the second one! COVID again required the team to be nimble, and address brand new challenges including: writing health and safety plans, sewing enough masks for everyone, finding enough vehicles so personnel could all drive separately, and figuring out how to find the right size of hip waders when the stores are all closed. But as of May 26, new staff were trained and finally able to hit the mud for the first time, setting up sites and protocols all while practicing distancing. Trapping work is logistically difficult and physically strenuous in the best of times, and everything is at least – at least –  30% harder these days with COVID. But the team recognizes that protecting both the shorelines of Drayton Harbor, and the health and safety of the community, are urgent and important priorities.
What's next? Because many boots make light work, the goal is to expand the cadre of trappers beyond this leadership team. While the first month of field work was devoted to training the new staff and setting up protocols and sites, the team is now working to partner with other agencies with field crews, such as the Department of Natural Resources Puget Sound Corps, who can provide staff time to increase the amount of trapping that can be done. In the future, it's hoped that efforts will also be able to include the numerous community members who have generously expressed a strong desire to volunteer their time trapping green crab. Unfortunately, these plans are currently on hold due to concerns about managing risk from COVID.
Nevertheless, beyond the boots in the mud, many local entities are already supporting the effort by providing access to sites (City of Blaine, Port of Bellingham, Whatcom Land Trust, and many generous private landowners), a financial gift to fund gear purchase (Puget Sound Restoration Fund), outreach and engagement with community groups (Whatcom Marine Resources Committee, RE Sources), and other logistical facilitation. So you can see what we mean when we say efforts are massively cooperative!
There is precedent for successful collaborative management of this waterway. In the early 2000's, community members worked with Puget Sound Restoration Fund to form a community shellfish farm in Drayton, as a catalyst for restoring water quality across the bay. The endeavor was so successful, the farm has since transitioned into a thriving local business, Drayton Harbor Oysters. The community around Drayton knows how to pull together to protect marine resources. In the next post, we'll outline what has been learned from the first month of removal trapping.
– Emily Grason
Header photo: Traps ready to be hauled out on the mud. Looking north across the US-Canada border toward Surrey. Credit: Chelsey Buffington courtesy of WDFW