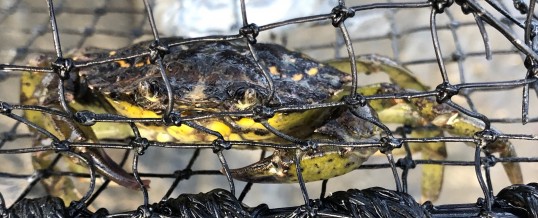 October 22, 2019
Broadening the search for invasive European green crab in Drayton Harbor, Washington Department of Fish and Wildlife and WSG Crab Team captured additional European green crab in recent weeks. In addition, Lummi Natural Resources has reported capturing green crab in Lummi Bay as a result of early detection trapping, expanding the list of new sites where green crab have been confirmed in Whatcom County this year.
Drayton Harbor, Blaine
Following the discovery of several molted green crab shells by Crab Team volunteers in Drayton Harbor, and a consequent WDFW rapid assessment trapping effort in September, WSG Crab Team staff and volunteers joined WDFW in the field to broaden the search. Having found green crabs at the mouth of two creek systems, one the goals was to determine how far upstream green crab had been able to settle and grow. Working with WDFW, and support from several Crab Team volunteers, this second assessment effort totaled 267 trap sets, and captured an additional 21 green crabs, bringing the total number captured in Drayton Harbor to 38.
While the majority of the crabs trapped were small, and likely the youngest settled age class, a couple of larger crabs were also captured, confirming that at least two settlement events have taken place in Drayton. The crabs were found to be fairly widespread across the harbor, and even just outside.
Lummi Bay
The Lummi Natural Resources Department also conducted trapping along shorelines on the Lummi Reservation in response to the detection of green crabs at Drayton Harbor, and reported finding 36 green crabs in 60 trap sets across several days in Lummi Bay, about 12 miles south of Drayton Harbor. Karl Mueller, shellfish biologist with Lummi Natural Resources, writes:
"We will continue sampling European green crab on reservation tidelands to improve our understanding of the geographic distribution of the crab and the age or size structure of the population. In addition, over the winter months, Lummi Natural Resources will formalize a response plan, which may include partnering with regional experts like the WSG Crab Team, implementing a widespread trapping program, assessing possible impacts to local species and habitats, recruiting volunteers, and availing outreach and education materials to the Lummi community."
Crab Team is grateful to the Lummi for providing crabs captured for inclusion in genetic analysis. We are collaborating with population geneticist, Carolyn Tepolt, at Woods Hole Oceanographic Institution to better understand where green crabs are coming from, how they are moving around, and how temperature might be influencing their success or failure across the West Coast invasion. Preliminary findings could come as soon as early 2020.
Green crabs in Whatcom County
These reports come on the heels of a busy year for green crabs in Whatcom County. In addition to Lummi Bay and Drayton Harbor, the first evidence of green crab was reported from Squalicum Harbor (Bellingham) and Chuckanut Bay this year, and a recent report suggests green crab presence in Birch Bay as well. In adjacent Skagit and San Juan counties, green crab were first detected in 2016, but they remain extremely rare in those locations. Our colleagues at Fisheries and Oceans Canada (the federal agency responsible for managing European green crab in Canada) have been conducting early detection trapping in Boundary Bay, British Columbia, just across the border from Blaine, and found a small number of green crabs. This adds to a few new detection locations for green crab on the B.C. side of the Salish Sea this year, including Esquimalt Lagoon and Salt Spring Island.
What is different about north Whatcom County is finding a relatively large number of crabs during an assessment trapping effort. It's cause for substantial concern because it suggests green crabs might be more abundant in this area than at the majority of other sites along Washington's inland shorelines, where only a few individual crabs have been found during similar trapping events. Capture rates at Drayton Harbor, however, are similar to those seen during the early weeks of trapping at Dungeness Spit in early 2017, when green crabs were first discovered on the National Wildlife Refuge property. Since that time, extensive removal trapping efforts by US Fish and Wildlife Service staff and volunteers have captured a total of 222 individual green crabs–more than any other site along Washington's inland shorelines. Also in 2017, green crab were detected for the first time in Makah Bay, just outside the opening to the Strait of Juan de Fuca, and catch rates have been even higher at that location – more than 2,000 green crabs have been captured and removed by the Makah Fisheries Department in the past two years.
Management responses to these new findings will be under discussion this fall. As the weather turns cool, and the tides shift, it becomes increasingly difficult to attract relatively rare crabs to traps, so any removal trapping will likely begin in the spring. Removal trapping efforts at Dungeness Spit and Makah Bay, the only two sites under intensive management at the moment, have been models for rapid response control and eradication efforts for newly-detected populations. Managers working at these sites have demonstrated how effective consistent efforts can be at containing a potential beachhead population, but also that such responses are extremely labor intensive, and require sustained trapping effort over multiple years. At Dungeness Spit, more than 8,500 traps have been deployed since 2017 to control the population there and reduce the chances of further spread. This year, the average catch declined somewhat compared to previous years, suggesting these efforts could be paying off. Management of green crab in Drayton Harbor could face additional challenges, because green crabs appear to be more widespread and are spread across a wider range of private and public ownership than at other managed sites. We also might not yet know the full extent of their distribution in the harbor.
Whatcom County shorelines are lucky to have fierce defenders, though. In addition to the committed Crab Team volunteers who will resume monitoring at California Creek in spring of 2020, a number of local landowners and managers were extremely helpful in providing access for sampling in Drayton Harbor. We are grateful for everyone who supported the effort.
–Emily Grason
Header photo credit: Emily Grason/WSG