February 1, 2023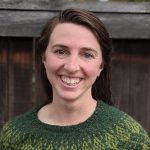 We are thrilled to welcome Lisa Watkins as the new community science specialist for the Crab Team at Washington Sea Grant.
Lisa coordinates WSG Crab Team's volunteer monitoring network, which collects detection data on the invasive European green crab across Washington's Coastal and Puget Sound regions. She aims to facilitate successful community science experiences at WSG, where volunteers are supported and their efforts honored, with data that is valuable and fully utilized.
Prior to joining WSG, Lisa received her doctorate from Cornell University, where she led research focused on the quantification and transport of plastic pollution and on community-sourced data. Previously, she supported programming and citizen science at Teton Science Schools and served as a Community Science Fellow with Thriving Earth Exchange.
In addition to her Ph.D., Lisa holds a master's degree in biological and environmental engineering from Cornell University and a bachelor's in environmental engineering from Clemson University.
###
Washington Sea Grant, based at the University of Washington, helps people and marine life thrive through research, technical expertise and education supporting the responsible use and conservation of coastal ecosystems. The National Sea Grant College Program is part of the National Oceanic and Atmospheric Administration, U.S. Department of Commerce.
www.wsg.uw.edu.
Join the conversation: @WASeaGrant and Facebook.com/WaSeaGrant.