September 16, 2019
Washington Sea Grant (WSG) is excited to announce the launch of our new Keystone Fellowship Program. The Washington Sea Grant Keystone Fellowship seeks to build pathways into marine science, policy and related industry careers for individuals who are historically underrepresented in those fields. This paid fellowship offers a unique educational opportunity by matching highly motivated and qualified individuals with host offices throughout Washington State. The Fellowship offers first-hand experience working on projects that help WSG better understand, conserve and utilize Washington's ocean and coastal resources and is open to diverse graduates and early-career professionals who are interested and engaged in ocean and coastal vocations.
The program's goals are to:
Create pathways into marine science, policy and industry careers for individuals who are historically underrepresented or underserved in these fields
Identify and elevate high potential emerging leaders in marine science and policy
Respond to relevant program or project needs of key WSG partners who share and seek to advance the goals and values of the WSG Keystone Fellowship program
The 2019 Inaugural Washington Sea Grant Keystone Fellow is:
Adrienne Hampton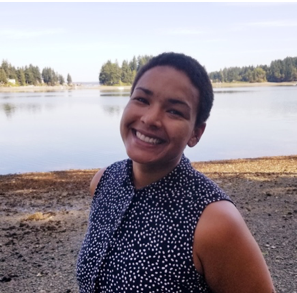 Adrienne is a recent graduate of the Daniel J. Evans School of Public Policy and Governance at the University of Washington. Having received a Master in Public Administration degree, Adrienne recognizes how critical internal organizational working culture is to accomplishing goals which will benefit the public good. To fulfill her capstone degree requirement, Adrienne completed an applied action research project with a graduate team to identify what makes for successful collaborative governance in the Chehalis Basin region for the Office of the Chehalis Basin, Washington State Department of Ecology. She has been a fellow with the Future Earth and Global Sustainability Scholars program and Marine Conservation Institute. She has also served in positions focused on developing new partnerships to advance equitable frameworks for fellowship programs, research and monitoring of endangered species and change management initiatives. Adrienne seeks to work at the nexus of collaborative governance and marine science to propel changes in decision-making within agencies that is inclusive and benefits community health and resilience. She hopes that her work will leave a responsible legacy that heals existing inequities in the field. In this way, Adrienne is dedicated to weaving diversity, equity and inclusion throughout all aspects of her career in marine policy and public service. In addition, her experience working with the Doris Duke Conservation Scholars Program, the Duwamish Floating Wetlands Project, the Mount St. Helens Institute and the Hille Ris Lambers (HRL) Lab at UW has equipped her with a wide aperture of understanding for a career dedicated to environmental protection and intergroup relations. Adrienne's career endeavors and lived experiences have taught her that the most important values within the environmental field are harmony, balance, connection and trust.
As the inaugural WSG Keystone Fellow, Adrienne strives to uphold the power of relationship-building to enhance decision making that benefits a cross-cultural network to achieve multiplex goals. She will be working with the Seattle Aquarium on a project titled Expanding and Diversifying the Network of Ocean Advocates in Washington. Through this project, Adrienne will lead the development, coordination and training of a network of diverse groups and individuals around the goal of elevating ocean conservation as a central value for residents and elected decision-makers throughout Washington State.
Read more about the Keystone Fellowship here.