May 16, 2023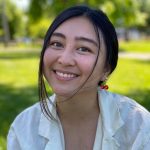 Washington Sea Grant (WSG) is excited to announce that University of Washington and Western Washington University graduate Jackelyn Garcia has been selected as the 2023–2024 WSG Keystone Fellow. Through the fellowship, she will spend the year working at the Puget Sound Partnership and Washington Conservation Action. She will start in June.
Launched in 2019, the WSG Keystone Fellowship seeks to build pathways into marine science, policy and related industry careers for individuals who are historically underrepresented in those fields. This paid fellowship offers a unique educational opportunity by matching highly motivated and qualified individuals with host offices throughout Washington state. The program offers first-hand experience working on projects that help fellows better understand, conserve and utilize Washington's ocean and coastal resources. The fellowship is open to diverse graduates and early-career professionals who are interested and engaged in ocean and coastal vocations.
The program's goals are to:
Create pathways into marine science, policy and industry careers for individuals who are historically underrepresented or underserved in these fields
Identify and elevate high-potential emerging leaders in marine science and policy
Respond to relevant program or project needs of key WSG partners who share and seek to advance the goals and values of the WSG Keystone Fellowship program
Jackelyn grew up mostly in Washington, though her family originates from the Philippines. Jackelyn earned her bachelor's degree in biology at University of Washington Bothell. While pursuing her degree, in 2018, Jackelyn became an alumni of the Doris Duke Conservation Scholars Program. Through this program, she had the privilege of learning from diverse communities about the local ecology, and was inspired by the community-based approaches used to address issues relevant to food sovereignty in suburban and urban areas.
Jackelyn pursued her master's degree in marine and estuarine science at Western Washington University. Partnering with Northwest Indian College, her research focused on interlacing different knowledge systems to understand how toxins produced by harmful algae are accumulated in Butter clams, and related this to the traditional ways shellfish is prepared by Coast Salish Peoples. She also supported the review of ethics in relation to tribal sovereignty to synthesize principles key to supporting reciprocal and collaborative partnerships.
Prior to graduate school, Jackelyn gained experience in conservation aquaculture with the Puget Sound Restoration Fund where she supported the restoration of marine invertebrates, pinto abalone and Olympia oysters in the Puget Sound. As the 2023 WSG Keystone Fellow, Jackelyn is excited to work with the Puget Sound Partnership, Washington Conservation Action and Salish Sea Collective to integrate diversity, equity and inclusion into their management and strategic plans.
She is also looking forward to supporting a new iteration of the Salish Sea Equity and Justice (SSEJ) Symposium, and creating space for dialogue on the collective visions for the recovery and healing of the Salish Sea and its surrounding communities.
Congratulations, Jackelyn! We can't wait to see what you accomplish.
###
Washington Sea Grant, based at the University of Washington, helps people and marine life thrive through research, technical expertise and education supporting the responsible use and conservation of coastal ecosystems. The National Sea Grant College Program is part of the National Oceanic and Atmospheric Administration, U.S. Department of Commerce.
www.wsg.uw.edu.
Join the conversation: @WASeaGrant and Facebook.com/WaSeaGrant.