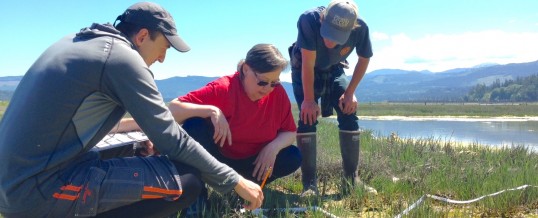 July 20, 2017
Trapping to remove invasive European green crab from Dungeness Spit National Wildlife Refuge is in its 15th week since the initial discovery of four individuals during April of this year. As of last Friday, partners with US Fish and Wildlife Service (UWFWS) and Washington Department of Fish & Wildlife (WDFW) had captured and removed 89 crabs from Dungeness Bay. Since our last update a few weeks ago, a few notable developments have occurred:
Three green crab were captured near a small lagoon (orange circle in map at right) at the base of Dungeness Spit since our last update. Up until late June, green crab had only been captured in a single marsh channel (red teardrop) on Graveyard Spit, which extends south from the top end of Dungeness Spit. USFWS continued to "prospect" in other areas – set traps in areas where green crab have not been captured, but which look suitable for them – just in case they had missed a few. This slightly expands the range of where green crab are known to be present in Dungeness Bay, and reemphasizes the importance of ongoing exploratory trapping. That is, we know that traps don't attract every single crab in a given location on one, or even a few successive, nights of trapping. Sometimes the crabs just aren't hungry. Repeated trapping is necessary to confirm the crabs are truly not present.

Two of the three green crab captured at the base of the spit were found in a single trap, a male and a female, in a pre-copulatory embrace. Female crabs can only mate when they have recently molted. During mating season, male crabs will search out and guard females that are nearing their molt. Finding this entwined couple is the first evidence we've had so far this year that mating is underway. We are a little cautious about concluding that mating has only just begun, however, because evidence of reproductive activity often doesn't show up in traps; crabs that are embracing don't often come to traps. So, we might have missed the official kickoff to mating season, but we certainly know it's happening now, and every crab we remove is a crab that won't contribute to local population growth or spread.
We combine these observations with data on the crabs that are being found, such as the ratio of males to females, and the average size of crabs being caught, to keep an eye on what is happening in the life cycle of green crab and develop best practices for effective removal.
In addition, over the past months, the search area around Dungeness Spit has widened, to explore whether European green crab are also living in other nearby habitats. Because Graveyard Spit is rarely visited by humans or vessel traffic, the most likely explanation for how green crab arrived there is that they washed in as larvae. Any larvae that came that far into Dungeness Bay could have washed past, and landed in, other sites with good green crab habitat. To address this concern, multiple partners have been trapping along neighboring muddy shorelines considered to be favorable for green crab survival.
Crab Team volunteers currently have ongoing monthly monitoring sites established at Dungeness Landing, Washington Harbor (Sequim Bay), Discovery Bay, and near Port Townsend (see our site map). Each month, volunteers follow the standard early detection protocols, looking for molts and setting traps for one night. To date, no green crab have been found at any of these sites out of a total of 90 trap sets.
Partners at the Jamestown S'Klallam Tribe have been setting traps around Sequim Bay, including Travis Spit and Washington Harbor. Neil Harrington, Environmental Biologist with the Tribe, reports that no green crab have been found in the 77 trap sets he's conducted.
Crab Team staff, along with Neil Harrington, spent three days in June trapping the marsh channels to the west of the mouth of the Dungeness River (red circle in map). A total of 74 trap sets across two nights yielded no green crab. An additional six traps were set in the channels by WDFW. This, combined with ongoing monthly trapping by Crab Team volunteers at our index site at Dungeness Landing, increases the confidence that we are not missing a large undetected population in that area. We are grateful to Dungeness Farms and the residents of the Dungeness Beach Association for their permission to access these sites, especially to Bob Boekelheide and Mark Wegehaupt (captain of the Dungeness Landing monitoring site), who joined us on our adventure!
Unsuccessful searches like these are our favorites. Yet there remains a western frontier to our knowledge – no systematic search for green crab has been done west of Dungeness Spit in the past several years. Some preliminary oceanographic models suggest that the western end of the Strait could be more likely to receive any larvae that are getting washed out of Sooke Inlet, a known population just west of Victoria, BC. The good news is that only a very small proportion of the shoreline offers the best habitat for green crab. While larvae could arrive anywhere the current takes them, we don't expect green crab to thrive, and have a big impact, in rocky or high energy beaches.
We are excited to partner with the Lower Elwha Klallam Tribe to launch one or two new early detection sites in the Crab Team network in the coming weeks. Not only will this expand the coverage of the early detection network, but the staff will also be able to recognize green crab in their field work at other sites, and can therefore act as eyes on the beach in locations that aren't as suitable for early detection trapping, like the mouth of the Elwha River. This week we selected a first site at the Pysht estuary, and although we haven't trapped there yet, we noted abundant hairy shore crab and juvenile Dungeness crab in the channel, and no evidence of European green crab.
Does 89 crabs mean it's already too late to do anything about this invasive species? We don't think so. Prevention is, of course, the best and most cost effective way to protect native habitats, but, even in the best of cases, it's unrealistic to expect that we can prevent every single tiny larva from floating in. The current partnership among agencies, tribes, scientists, and shoreline stewards for early detection of green crab and rapid removal efforts, is a powerful second line of defense. Putting the numbers in perspective, at Dungeness Bay, it took more than 3,000 traps to catch the 89 crabs – an average of 0.03 crabs per trap set. The most recent surveys in Sooke Basin during 2015 averaged 1,000 times as many crabs! But certainly, if we did nothing to remove the crabs form Dungeness Bay, 89 could easily become hundreds or thousands very quickly. Complete eradication is a lofty goal, and experience in invasion management has demonstrated that it can be hard to achieve. Yet protecting Washington's shorelines and economies will require management for this globally damaging species, and it is far easier and more cost effective to do so when they are relatively scarce.
–Emily Grason