Melissa Poe
Social Scientist
Expertise
Social and cultural dimensions of coasts, oceans and forests
Human well-being indicators for integrated ecosystem assessments
Social vulnerabilities and resilience to ocean change
Indigenous and local knowledges
Subsistence practices and wild food systems
Applying anthropology, ethnoecology, political ecology, and cultural geography approaches to environmental problems through community-based participatory action research
Dr. Melissa Poe leads the social science program at Washington Sea Grant, where she works to identify, define and incorporate measures of human well-being and cultural practices into marine planning and ecosystem-based management. She is involved in Washington Sea Grant and NOAA's ocean acidification and climate change programs, studying how our changing seas might impact the social and cultural values of West Coast coastal and fishing communities. Melissa serves as a social science advisor to regional bodies such as the Puget Sound Partnership. Melissa advises and mentors undergraduate and graduate students who are interested in human—nature interactions and earning degrees in programs ranging from human geography, public health, anthropology to environmental studies. Melissa is active in diversity, equity and inclusion efforts.
Poe has conducted extensive fieldwork throughout Pacific North America in marine and terrestrial ecosystems. Prior to her affiliation with WSG/NWFSC in 2012, Melissa was a principal research scientist at the Institute for Culture and Ecology and worked in collaboration with the USDA Forest Service on community-based natural resource management in the Pacific Northwest. Melissa earned a Ph.D. (2009) and masters degree (2004) in Environmental Anthropology at the University of Washington where she focused her research on Indigenous community forestry in Oaxaca Mexico, and the cultural, gender, and governance dimensions of understory plants and mushrooms. Melissa's undergraduate degrees are in Sociology and Spanish with a minor in Peace and Conflict Resolution studies. Melissa is the first person in her family to go to college, and was supported through the Federal Pell Grant, merit awards, and the UW Graduate Opportunities and Minority Achievement Program. In an earlier phase of her career, Melissa was a wilderness guide, leading sea kayaking, international trekking and coastal backpacking trips. A long-time Puget Sound resident, Melissa enjoys foraging for wild foods and medicines, experimenting with botanical art and fermentation, and enjoys traveling with her wife.
Melissa's collaborative research has received press coverage in Science Magazine, National Geographic, Scientific American, Science Daily, National Public Radio, Public Radio International, KUOW, Earthzine, Huffington Post, University of Washington Today, NOAA Feature Stories, and the Encyclopedia of Puget Sound. Melissa edited the book Conservation for the Anthropocene Ocean: interdisciplinary science to support nature and people with co-editor Phil Levin (UW/TNC).
Current projects include: (1) The Olympic Coast as a Sentinel: An Integrated Social-Ecological Vulnerability Assessment to Ocean Acidification (NOAA OA Program funded); (2) Reviving the past to protect the future: Developing a social-ecological clam garden site selection model, "Clam Garden Project" (Washington Sea Grant funded); (3) West Coast fishing communities climate resilience (NSF funded: The Dynamics of Adaptation to Climate-Driven Variability in California Current Fisheries and Fishing Communities); (4) Pacific herring social-ecological systems (Ocean Tipping Points and Ocean Modeling Forum). Some information about these projects can be found below.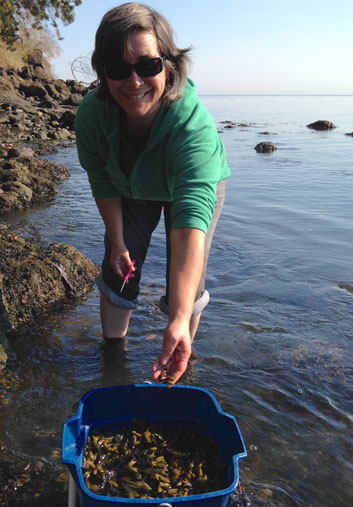 Links
Follow Melissa on Twitter at @mpoetree and keep posted on Washington Sea Grant's social science activities through our blog, Coastal Connections.