September 15, 2020
A Washington Sea Grant intern shares lessons from his summer here, and how he's passing those lessons on through the Community Engagement Toolkit
By William Walker, Doris Duke Conservation Scholar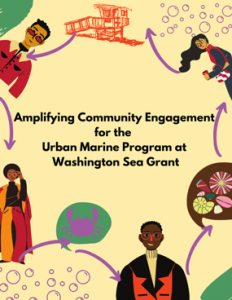 Washington Sea Grant (WSG) has been a leader in marine research, outreach and education for over 50 years. More recently, WSG has recognized the urgency of intersectionality in our conservation initiatives and has been thinking about how we make communities the focal point of our work. How do we center communities? How can environmental organizations effectively listen, learn, support and collaborate while building meaningful relationships?
This past summer, I had the opportunity to intern with Washington Sea Grant as an extension to my Doris Duke Conservation Scholars Program (DDCSP) at the University of Washington. I worked closely with Melissa Watkinson and Adrienne Hampton on developing the new Urban Marine Program, an exploratory opportunity that seeks to answer many of the complex questions above. The goal of this initiative is to collaborate with Black, Indigenous and people of color (BIPOC) communities to support more equitable access to marine resources and foods.
Halfway through my internship experience, I was introduced to the concept of "helicopter research." This is a common phenomenon in which environmentalists work with communities for a limited time and simply extract what they need while not practicing reciprocity or leaving behind a stable system. When I was introduced to this issue, I thought about my own agency within the organization, the privilege of having an internship, and the scope of what I can do in eight weeks. DDCSP has taught me the importance of practicing reciprocity and cultivating community-oriented solutions and stories. I wanted to leave something behind that can work as a cumulative framework for building community relationships and to start the conversation about how we can uplift BIPOC communities and increase accessibility to marine resources. I created a community engagement toolkit for WSG and partner organizations to serve as a reference on utilizing methods of environmental intersectionality, systems thinking, relationship-building, and place-based engagement.
The experience of working with WSG, Melissa and Adrienne was enlightening and has solidified my interest in community activism, sustainable development, and DEI initiatives. I hope to take the skills and research methods I learned and apply them to my future work.
Read the Urban Marine Program Community Engagement Toolkit here.
Watch a Zoom recording of William's Lunch & Learn presentation and discussion on the Toolkit here.